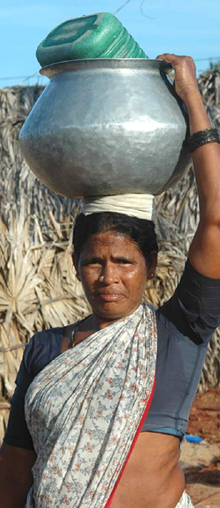 Indian woman in rural area
Today, Information Technology has changed the communication paradigm, making it no longer difficult to reach a large number of people. It can be seen that new media has played a significant role in the empowerment of women through the help of Information and Communication Technology. Now majority of women use the Internet to manage their day-to-day life. With easy access to Internet at homes, cyber cafes, offices and growing adoption of smart phones, the Internet is being used by women for a variety of things. The development of New Media has enabled the women section to participate in the daily affairs of the state, which range from the household work to education, health, governance and so on. In sum, the way new media has played its part in portraying about the atrocities faced by the women and empowering the women, no other sector has done. The world is in the midst of a knowledge revolution, where the entire society tends to becoming "knowledge society" which complemented by opening up of entirely new spectrum in the areas of communication technology. Recent development in the fields of communication technology is indeed of a revolutionary nature.
Women Empowerment: New Media
A nation that wants to progress cannot afford to ignore capacity building and empowerment of women. Gender sensitivity is the prerequisite that must prevail and be strengthened at all levels. Women's development is now linked with technology. Thus, technological intervention assumes a greater and more vital role, especially when viewed globally. Since, women have limited access to technologies in India However; there are now experiences to show that when women are trained, they show remarkable understanding and control in using technologies effectively.
Importance of New Media
The empowerment of women is the process of providing power to woman to become free from the control of others, that is, to assume power to control her own life and to determine her own conditions. Women empowerment could also be understood as the process of providing equal rights, opportunities, responsibilities and power positions to women so that they are able to play a role on par with men in society. It is very much necessary in the nation's growth be it economically, politically or socially and strengthening the hands of women who have been suffering from various disabilities, inequalities and gender discrimination. New media is different from traditional 'Old Media' in that its structures of ownership and participation are new and directly challenge the monopoly on mass communication possessed by traditional media producers. One of the innovations in recent years has been the use of internet as a form of new media, the creation of different websites that focus on women empowerment in terms of education, literacy, health, knowledge, lifestyle and many more areas have been proliferated. Today it is possible, to find anything related to empowerment by typing keyword searches using a reliable internet browser.
The Characteristics of New Media Are:
With information and services it connects the people.
Including Collaborate people with other and those within your organization or community.
It generates new content, services, communities, and channels of communication that help you deliver information and services.
New media is known for its interactivity, ability to involve the audience. In comparison to other media forms, new media has the most evolved feedback system in place.
New Media uses a narrative style of writing. The other special feature of new media is the use of multimedia
Different forms of New Media are:
Social Networking Sites: Social networking sites are online communities that give opportunities to connect with, or provide resources to friends, family, clients and colleagues with common interests.Social Bookmarking: Social bookmarking is a way to store, organize and search your favourite web pages on the Internet.Webcast /Webinars: A webcast is a way of broadcasting over the internet. A webinar is a specific type of web conference.Podcasts: Pod casts (a blend of the term "I Pod" and "broadcast") are audio or video files that you can listen or watch on your computer or on a variety of media devices like I Pod and cell phones.Blogs: Blogs are website with regular updates and typical combine text, image(Graphics or video), and links to other web pages.Texting: - Text messaging is a way of sending information to and from cell phones and other personal digital assistants (PDA's) like tablet.Mobile: Mobile is a way of receiving, viewing and /or sending information to and from cellular phones and other wireless devices.Photo Sharing Sites: Photo sharing sites allow to literally "share photos", online with friend family and colleagues, like Flicker.Mishaps: A mash up is a website "that combines data from more than one source into a single integrated tool".Video Sharing Sites: Video sharing sites allow uploading and sharing online videos similar to photo sharing sites. You Tube is the most well known of these types of sites.Twitter: One can think of "Twitter" as a micro blog. Computer/Mobile Phone can be used to broadcast short messages or tweets. People can sign up onTwitter to follow the tweets.
Urban educated women's information need
:Educational opportunities
Social Support system for working women
Employment /Job Prospects in Abroad
Art and Entertainment, Music videos and films
Career advancement facilities
Beauty and Fashion, Hair care, Health & Lifestyle, Apparel and accessories
Lower middle class women's information need:
Educational facilities at their doorstep
Employment /Job Prospects /self locality
Inexpensive childcare & Healthcare
Legal provisions against Sexual harassment, Domestic Violence and Social Injustice
Effective tools for women empowerment through new media:
Increases social interaction and self confidence
Represent and share their experiences and their knowledge
Bring ability to change other's perceptions by democratic means
Help them to develop their ideas and creativity
Propose means for self-reflection and self-advocacy
Improvement in the living standard
Increase decision-making power of the women
Having access to information and resources for taking proper decision
Develop awareness and sense of achievement
Having positive thinking on the ability to make change
Increase ability to learn skills for improving one's personal or group power
Involving in the growth process and change that is never ending and self- initiated
Improve knowledge on important issues like health, education, empowerment References:Ehtesham Ahmad Khan and Arif Moin (2013) Women Empowerment: Role of New Media. Excellence International Journal of Education and Research. vol. 1(3). Shashikant Bhagat _ Women Empowerment & Communication. National Institute of Mass communication & Journalism, Ahmedabad.www.slideshare.net/Shashi04/women-empowerment-ict
www.theguardian.com/global...network/.../improving-ict-access-to-girls
wcd.nic.in/research/ict-reporttn.pdf
Contact:
Shalini Asrani and Anju Kapoor
Department of Home Science Extension and communication Management
College of Home Science, CSK Himachal Pradesh Agricultural University, Palampur -176062(HP) India