National
President's Message
Protection of Diplomats
By Alan Timblick
President of The Seoul Times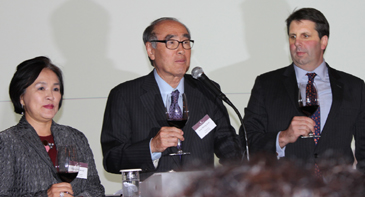 US Ambassador Mark Lippert (right) poses with former Prime Minister Lee Hong-Ku (center) and former Junstice Minister Kang Geun-Shil at the event held on the occasion of the Asia Foundation's 60th anniversary at Plaza Hotel in Seoul.
We send our sympathies and good wishes to H.E. Mark Lippert, the US ambassador to Korea , and hope for a swift and full recovery from his injuries. At the same time we cannot help but condemn the heinous attack and its perpetrator. We strongly hope this was an isolated and not-to-be repeated incident and in no way symptomatic of the feelings of Korean citizens towards the USA!One way to "demonstrate" that this is in fact so, would be for the people of Seoul to create an event, typical oftheir organizing skills, namely to hold yet another candlelight demonstration, this one in support of America's representative.It might have echoes of that previous powerful march, which turned the result of a general election on its head, in which the USA was unfairly blamed for the tragic deaths of two schoolgirls in a traffic accident. It might also provide a healing salvant to those who were targeted by the previous anti-American demonstration.But there are important issues at stake including a topical recurrent theme relating to safety and precautions in Korea these days.The personal safety of diplomats is the responsibility of the host country, universally recognized and mostly observed convention in international affairs.For Korea to be in breach of this convention, joining the ranks of countries where diplomats are attacked, locked up, kidnapped an assassinated would be a shameful blot on the country's reputation as a mature democratic member of the family of nations.Now this incident cannot be blamed on the population at large. But given prior knowledge of the character, disposition and previous record of mr. kim ki-jong, one has to ask how such a person as allowed to pass through police security, carrying a lethal weapon ... a very sharp and long knife — let alone to get within close proximity of the Ambassador?Perhaps we should be very thankful he was not trained in the terrorist school of decapitation! But what a close peril we nearly experienced.!One which should have been easily avoidable had proper prudent security procedures been followed!Motives for irrational and uncivilized behavior are hard to fathom. The best we can hope for is to consign this attack to the same category as the senseless destruction of Namdaemun by a deranged arsonist!Lets learn the lesson and remember that safety is paramount in all aspects of human relations!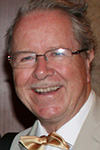 Alan Timblick serves as President of The Seoul Times. He grew up in England, graduated from Oxford University, and has lived in Seoul for over three decades. A former banker, he also worked for the Korean government as head of Invest Korea and for Seoul City as head of the Seoul Global Center.