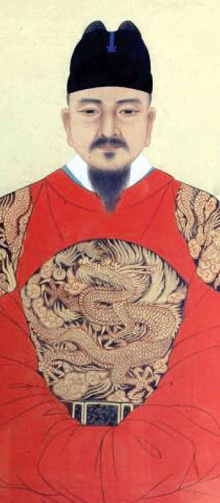 King Sejong (1397-1450)
Our "past and present" series has been absent for a while but having only. Recently celebrated the newly re-established national holiday, in honor of Hangeul, it is not to late to publish this chapter about how the unique script came to be created
We plan topublish another piece which may suggest a less laudatory opinion about Hangeul, so look out for the next chapter in the series! — Editor's NoteIf you have been to Gwangwhamun in the center of Seoul within the past couple of months, you cannot help but to have noticed a very large statue of a seated king.
This is King Sejong, after whom the Sejong Cultural Center and Sejong Street was named. Probably Korea's most respected King, his thirty two year rule, which ended five hundred and sixty years ago, made a significant mark on Korea's history.
Sejong was a real reformer. Early in his reign he published a handbook for farmers, describing the different cultivation techniques to be used in different regions and aimed at improving productivity through greater intensification.
But his most famous achievement was the creation of the Korean phonetic writing system, known today as Hangeul.
Even in his day, the spoken language was a blend of Chinese-origin words and local Korean words. And all written works used Chinese characters, what we call Hancha or Hanmun. The problem was that the written word did not help the reader know how to pronounce the spoken word.
Designing from scratch a simple, totally phonetic, easy-to-learn script was no less than amazing. Whether Sejong himself invented Hangeul or was the initiator who provided the scholars with their task brief and who funded the project is not so important. It was his government which published the Hun-min-jeong-eum in which Hangeul was announced and explained that the Korean language was different from Chinese, and it was difficult for "the people" to learn to read and write.
This was potentially a revolutionary step, since it could result in knowledge and learning being no longer the prerogative of a privileged few. As a result, there was strong opposition to the use of the new writing method.After its launch in 1446, the Confucian scholars of the day, who believed that Hanmun was the only legitimate writing system, campaigned against Hangeul, and in 1504 the then King Yeonsangun banned the use of the new writing in official documents and forbad the study of Hangeul. Two years later the Ministry responsible for research and development of Hangeul was abolished.
Whatever the original intention of Sejong, however, Hangeul was here to stay and became especially popular with the ladies, who were excluded from Confucian scholarly institutions.
Today Korea has one of the highest levels of literacy in the world, thanks to King Sejong. It was said in the Hunmin Jeong-eum Haerye, a document only re-discovered in 1940 which explains to way to use Hangeul, that ""A wise man can acquaint himself with them before the morning is over; a stupid man can learn them in the space of ten days". Foreigners who complain how difficult the language is please take note!