National
Baloons, Drones, Satire, and Free Speech
By Alan Timblick
President of The Seoul Times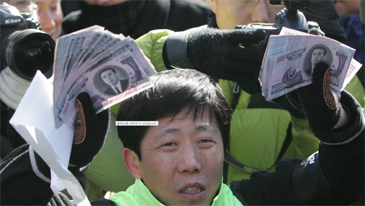 An anti-North Korean man shows North Korean bills to the journalists before he and his members release anti-North Korean leafleats along with the money in the bloon near the border.
I can remember finding yellow leaflets on golf courses in South Korea and being sharply rebuked by my conservative companions that I was breaking the law by picking them up, since those leaflets bore propaganda messages from the North!These days the boot seems to be on the other foot and a burning issue is whether the Park Geun-Hye government of South Korea should "ban" the sending of leaflets in balloons to the North! The latest silly idea is that drones should be used instead of balloons!If you tease a caged animal you are likely to enrage it, which is highly risky and to be discouraged. Given the irrational behavior of the DPRK (Democratic People's Republic of Korea: North Korea) the likelihood of a disproportionate reaction is high.The bosses in Pyongyang clearly have very thin skins and do not like being made fun of.But it is doubtful they actually read commentary from outside. So the power of the world media is that protected free speech can be a weapon of ridicule and scorn.Does North Korea's young leader Kim Jong-Un know he is the object of international derision? The Sony hacking suggests he might do.His propaganda machine is expert at coming up with insults, over—the -top threats and worse, so why not create our own insult-generator to be published only in South Korea and to the International media? "Can you take it, Jong-Un?There are other ways to tweak the lion's tail! We need to be imaginative and creative! How about dropping mobile phones into the North with pre-set call-back numbers of journalists?After the terror attacks in France, a good question is "do we dare take the initiative! The answer must be "yes we do!"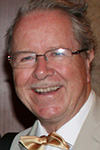 Alan Timblick serves as President of The Seoul Times. He grew up in England, graduated from Oxford University, and has lived in Seoul for over three decades. A former banker, he also worked for the Korean government as head of Invest Korea and for Seoul City as head of the Seoul Global Center.