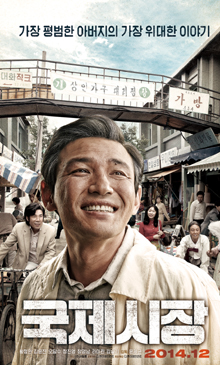 Poster of "International Market (Ode to My Father)"

Against the background of 70th anniversary celebrations of Independence from Japan, stalled talks on North-South family reunions and conflicting views about the Park Chung-Hee legacy, this movie, also entitled "An Ode (Tribute) to My Father," has all the ingredients for a domestic runaway success!Comical regional dialect, school-day and family bonding, heroism (even by those perpetual villains the lefties love to hate, the American GI,) lost children, the suffering of refugees — very topical given today's daily news from the Middle East- , tear-jerking reunions, patriotism, romance, and sacrifice ... Its all there!Despite a relatively weak story-line, the concentration on the atmosphere of the era, underlined by historical accuracy, holds the attention and probably fills many gaps of ignorance of the years 1950 to the 60s, ommitted from school history texts today. The scenes of miners and nurses in Germany and draftees in wartime Vietnam, for example, add to its authenticity The film deserves points for accuracy, continuity, intense drama, realistic camerawork,absence of political bias, It is a reasonably concise portrayal of the era.Despite the title, non-Korean audiences may find it too fragmented and lacking in international relevance for it to win plaudits globally, but for those with some knowledge of the Korean situation its well worth watching ...
International Market (Ode to My Father)
"Gukje Market" or International Market (Ode to My Father) is a 2014 South Korean drama film directed by Yoon Je-kyoon. Starring Hwang Jung-Min and Yunjin Kim, it depicts modern Korean history from the 1950s to the present day through the life of an ordinary man.
Directed by Yoon Je-kyoon
Starring Hwang Jung-min, Yunjin Kim
Cinematography Choi Young-hwan
Distributed by CJ Entertainment[1]
Release dates December 17, 2014 (2014-12-17)
Running time 126 minutes
Country South Korea
Language Korean
Budget US$13.1 million
Box office $55.75 million (Korea)
Story
— During the Hungnam Evacuation of 1951 in the Korean War (1950-53), when thousands of refugees in what would become North Korea were transported south by US navy boats, the child Deok-soo loses track of his sister Mak-soon.Because of this, Deok-soo's father stays behind to search for her, telling his son to take his mother and his two younger siblings to the port city of Busan, where Deok-soo's aunt Mi-ran Ra runs an imported goods store.Before leaving Deok-soo and the rest of his family, Deok-soo's father makes Deok-soo promise to be the head of the household in his place. As the firstborn, Deok-soo becomes the breadwinner of the household from an early age, doing all manner of odd jobs to support his family.In the 1960s, financial need forces him to travel to Europe with his best friend Dal-goo, where they find dangerous work as Gastarbeiters (guest workers) in the German coal mines in order to pay for his brothers tuition to Seoul National University.There, Deok-soo falls in love with a fellow migrant worker, the nurse Young-ja. After a mining accident, Deok-soo leaves Germany because his visa expires. Young-ja returns to Korea months later and reveals to Deok-soo she's pregnant with his child. Soon after, they have a modest wedding and begin a life together, eventually having two sons.Deok-soo decides to leave Korea again in the 1970s for war-torn Vietnam, partly to fufill his sister's wish for a big wedding. Young-ja is worried, knowing the dangers of wartime, but Deok-soo convinces her to see his way, partly by roping his best friend Dal-goo into going.Depite his assurances to his wife that he's safe, Deok-soo returns to Korea with a lame leg, a result of getting shot while helping villagers escape from the Viet Cong.
Full Cast
Hwang Jung-min as Deok-soo Yoon
Yunjin Kim as Young-ja
Oh Dal-su as Dal-goo
Jung Jin-young as Deok-soo's father
Jang Young-nam as Deok-soo's mother Kim Sun-young
Ra Mi-ran as Deok-soo's paternal aunt
Kim Seul-gie as Kkeut-soon
Lee Hyun as Seung-gyu
Stella Choe as Mak-soon Yoon
Tae In-ho as Yoon Gi-joo
Jung Yun-ho as Nam Jin