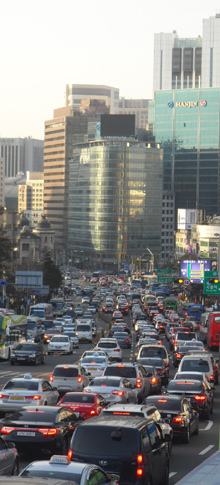 Myeong-dong area of Seoul
The other day I was waiting for the lights to change to green when there was a sudden change in the noise level around me.Since the traffic is so heavy and junctions very busy the time for the lights to complete their cycle seems to be very long in Seoul, so one has plenty of time to think and to contemplate one's surroundings.The wait is actually much longer every time a police officer takes it upon himself to intervene in the automatic function and take over control manually. I wish they would not do that since they seem to want to exhaust the supply of vehicles from one certain direction and wait until the road is completely empty before changing the lights and allowing the next line of patiently waiting drivers to take their turn through the junction.But I digress.As I was saying, the noise level suddenly reduced. It was then that I realized that the bus in the line next to mine had turned off its engine. At first I wondered if it was a mistake or if the engine had stalled. But then I noticed other bus drivers had done the same thing. And now regularly I can realize that turning off the engine while waiting for the lights to change has become standard practice for Seoul bus drivers.What a great idea! And well done Seoul City traffic managers!
People used to think that it took a lot of energy to get an engine started and so it was more fuel efficient to leave the engine running even for long periods, while the vehicle was stationary, rather than switch off and then re-start. But modern engines are not like that. And the really fuel-efficient hybrid vehicles actually do turn themselves off when not needed.This is a subject close to my heart and indeed last year I did try to mount a one-man campaign to try to persuade people to turn off their engines when waiting. There have been similar campaigns – far more successful than mine – in other cities around the world. New York City is one. It is actually illegal to have a car idle its engine for more than one minute.Seoul City actually also has regulations against idling and there are fines which are imposed on those found in breach of the rule. But in practice laws are not much help if people ignore them and they do ignore them when they cannot see their relevance or importance.I am sorry to say that I have given up on trying to persuade the drivers of my neighbors' cars not to leave the engine on – sometimes for an hour or more – while waiting outside the house for the owner to come out. I guess the anger of the owner on getting into a slightly chillier car in winter or a slightly warmer one in summer is a lot more fearsome than all my logical reasoning.But here are some interesting facts which, if the owners of those vehicles were aware of, would be powerfully persuasive on the side of arguing in favor of stopping idling.In Canada, a study calculated that eliminating idling for more than one minute could save the country 630 million liters of gasoline each year. It would also lessen the amount of carbon dioxide (that lethal gas, CO2) by 1.4 million tones every year.So not only would we be saving energy costs, we would also be improving the environment if we were all to avoid idling.And we could also be slowing down the process of global warming. We would also not need to fill the gas tank so often, since five minutes of idling equates to travelling about four kilometers in terms of the use of fuel.It is difficult to imagine that, in the context of a calm and well-informed debate, there could be any rational argument put forward in favor of idling.One man campaigns are perhaps not the most effective method of persuasion. But in Korea I have noticed that the mass population can be swayed to change even long-practiced habits as a result of a sustained public campaign. So I believe there is hope.The reason I gave up my efforts was that on one occasion I approached the driver of a large SUV in a car park who was sitting in his car and talking on the mobile phone. The engine had been running for at least five minutes and so I asked politely how long he intended to keep it running. The driver was a foreigner, like me.With a scowl on his face he informed me it was none of my business and encouraged me in far from polite language to go away!So I still seethe inside when I see, hear and smell cars waiting outside dwellings with the engine running, standing outside schools waiting for the children to come out and emitting exhaust fumes into the play area, congregating in car parks of hotels with the drivers asleep in a fully air-conditioned or warmly heated atmosphere. But I do nothing.I guess the reaction of most people is still that saving the earth for the future generations is "none of my business." Maybe that is why we have reached the state of the world when polar ice caps are reducing and glaciers have started to disappear.Korea is not a country where ordinary citizens are apt to take action for safety's sake, which is possibly why we have seen so many avoidable disastrous accidents recently. All it takes is leadership- one loud voice shouting "we're going to sink"! Or " the grating is going to collapse" or "that's too much weight for the roof to bear"... That, plus a lot of others prepared to listen and to make it their business!