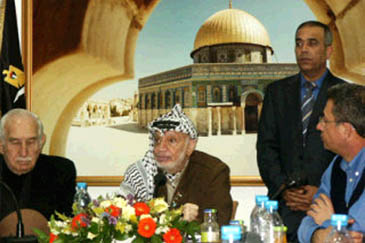 The Palestinian leader Yasser Arafat wouldn't have chosen a better funeral than the one he had in the West Bank city of Ramallah. Surely he would have smiled and flown kisses to the tens of thousands massing on the spot that his helicopter was to land in, flashing victory signs and engulfed in a symphony of gunfire, spine-tingling chants and wailing of police car and ambulance sirens. President Yasser Arafat passed away at 4:30 local Palestinian time at the Percy military hospital near Paris, France. The news of his death traveled quickly — but sadly — towards the Palestinian territories, where an entire nation was shocked to the news that their leader and symbol of hope and struggle had died."I still can't believe Abu Ammar (Arafat's nom de guerre) had passed away," said Khalifa Assayegh, a university student and member of Fateh youth movement. "He was our leader, mentor and father. How can we live after him," Assayegh added before bursting into tears.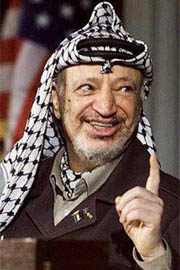 Yasser Arafat
Little did anyone know about Arafat's past, but this did not prevent the Palestinian people from choosing him as their champion, in times of war as in peace, as his deeds are undeniable by many men and women, be they friends or foes. At his battered Ramallah compound, in which Arafat spent his last years under an Israeli siege, two Egyptian helicopters flew Arafat from Egypt, where he was given a military funeral worthy of his stature as a revolutionary.Tens of thousands of Palestinians and hundreds of journalists from around the world waited this moment. For almost 30 minutes, the helicopters were not able to land as the crowds overflowed the helipad.The funeral that took place on November 12 embodied all that the Palestinian cause represented. It was the end not only of a president who had led his people — for good and for bad — for the past four decades, but the end of an era. The tens of thousands of people who had flocked to Ramallah to watch their leader laid to rest were well aware of this. In Gaza, a large awning tent was made outside Arafat's Gaza office, where thousands held a mock funeral that proceeded from the old Omari mosque in the heart of old Gaza City to the president's office. "It will be an unforgettable moment for us and for the Palestinian people," said Nicolas de Blois, a video journalist working for APTN in Gaza City told The Seoul Times.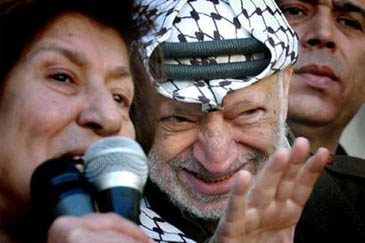 However, when the helicopters landed in Ramallah, there was a sea of emotions among the crowd. Adel Abu Saa, 26, a bank teller from Ramallah, said he felt relieved. "I was afraid Abu Ammar would not be brought back home. Now he can rest."But the most overwhelming emotion was grief, expressed by tears than poured like rain on that dry November day. "We lost our father, best friend, teacher and leader. It will never be the same without Abu Ammar," said Amneh Hassan, 56, a retired school teacher.One of Arafat's bodyguards, Zuhair Al Aref, told The Seoul Times that Abu Ammar died in a way he had liked. "Abu Ammar loved military uniforms and traveling," he said. "And looking at his funeral, he never took off his military uniform before his health deterioration, and he traveled in three different continents after his death."
Arafat had wanted to be laid to rest in Jerusalem. But among the mourners there was agreement that his wrecked compound in Ramallah, known as the Muqataa — which began life as a British mandate-era headquarters, passing through the hands of the Jordanians and Israelis as a jail until it became the Palestinian leader's own prison in the last years of his life — was a fitting burial site. The coffin was buried under a cluster of pine trees a few meters from the remains of what had been his offices until Israeli tanks smashed their way into the Muqataa in 2002. The grave was hurriedly constructed on Thursday with an apron of white Jerusalem stone and black marble. At its head were planted two small olive trees. The masses that flooded the Muqataa to touch the coffin soon crushed the trees.Palestinian leaders say that when, not if, East Jerusalem becomes the capital of their independent state they will rebury Arafat next to one of its holiest sites, the Al Aqsa Mosque. In the meantime, sack loads of earth from near the mosque were carried to Ramallah to line the grave.The leadership and authorities after Arafat's passing moved quite silently, unlike many journalists and commentators had expected.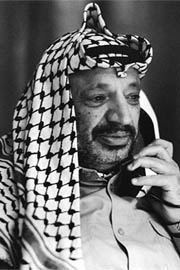 The Palestinian leadership appointed the speaker of the Palestinian Legislative Council, Rawhi Fattouh, as acting president of the Palestinian Authority, while Mahmoud Abbas (Abu Mazne) assumed chairmanship of the Palestinian Liberation Organization's Executive Committee, and Farouq Al Qaddoumi was elected to chair Fateh movement.Fattouh declared that following his 60-day temporary presidency of the PA, new elections will be held to choose the president of Palestinian Authority. The election date was set to January 10.Following the burial of Arafat, Qaddoura Fares, a PA minister, spoke to the Seoul Times over the phone. "There was a global funeral for Arafat in Cairo and then there was a human and emotional farewell with feelings of loyalty, pain, sadness and love all at once.""Arafat is not dead. He will live in our hearts," he said.