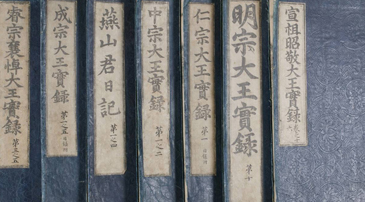 The Chosun Wangjo Sillok — The Annals of the Chosun Dynasty
Our Past & Present episode (11) "Catholic Martyrs of Korea" wrote of the raid on gangwha Island in which French Admiral Pierre-Gustave Roze removed books from the royal library. But the nature of this "booty" and the ramifications of the removal deserve further explanation.So here, in chapter 12 of our series, is a deeper and fuller account:-Most of the great empires of the world used their power over the present to re-write the past, giving modern historians ample scope to analyze and revise with the benefit of hindsight.But the Chosun kings did not have that power, and in fact their own rules of government expressly forbade them to exercise it. Thus it happened that for nearly five hundred years we can today read an accurate, objective account of the events of the reigns of 25 consecutive kings.
The Chosun Wangjo Sillok consists of 888 books divided into 1,893 chapters. It covers the years 1392-1863 and excludes only the reigns of the last two kings, since they died during Japanese rule and so the objectivity of the records of that time is not guaranteed.The writers were privileged court officials whose sole job was to attend all meetings as observers and scribes. The subjects covered range from politics to the weather, scholarship to foreign relations, music to astronomy.
Inevitably during such a long period some records were destroyed by fire, flood or martial conflict, but each time they were restored, made possible by the use of either wooden or metal moveable printing type.
The King was strictly forbidden to see the records and it was onlyafter his death that a special commission was established to finalise the accounts and preserve them. Copies were kept in different and remote secret locations to ensure their survival.
Equally remarkable has been the survival of the diaries, the Seungjeongwon Ilgi of a large part of the Chosun Dynasty period. These daily records of minute and even mundane happenings cover 288 years, from the 16th King, Injo until the last and 27th King, Sunjong.It was these records which acted as source documents for the loftier annals of the Wangjo Sillok. They are the equivalent of the former US President Richard Nixon recorded tapes of conversations in the Rose Office of the White House.
The size and scope of the daily diaries is quite amazing, the surviving records containing more than 240 million characters, compared with the 54 milion of the Wangjo Sillok.
The intention of keeping such records probably did not include making them available for universal public scrutiny into posterity, but the National Institute of Korean History has completed a major project to make the complete set available in Hangeul and a CD-ROM version is available to anyone today.