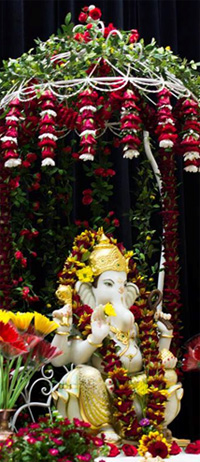 Beautiful Ganesh Idol for Ganesh Festival celebration at Seoul National University

With more and more Indians migrating to Korea, Hindu festivals have begun to witness colorful celebrations in Korea. This year, 8th Ganesh Chaturthi festival was celebrated by Indian Students Association at Seoul National University (SNU) (ISA@SNU) in collaboration with Vedic Culture Centre, Seoul.Ganesh Chaturthi also known as Vinayak Chaturthi is celebrated as the birth anniversary of lord Ganesh, the god of wisdom and prosperity of Hindu mythology. The idol of Ganesh was installed at SNU auditorium on 6th of Sept 2014 and worshiped with prayers and bhajans. The day started with Ganesh pooja by KamalaMatajiand Deepak Prabhuji of Sri SriRadhaShamaSundarmandir (temple), Seoul. This was followed by a speech by a Chief Guest Mr. Ved Pal Singh,first secretary, Embassy of India, Korea.The cultural program commenced with Ganesh Bhajan by Mrs. Sonam Gandhi and Marathi classical by Mrs. NirmalaJadhav which was followed by excellent Bharatnatyam (Indian traditional Dance) by Mr. Manimaran.Sweet violin musical performance was presented by Ms. Sannidhya from Embassy of India, Seoul. Right after the melody of violin,Mr. Dheerendra Tiwari stunned the audience with a thrilling classicalkathak and free-style fusion.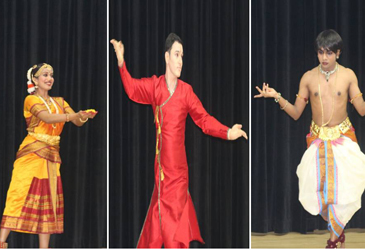 Ms. Jyoshna Nair (left), Mr. Dheerendra Tiwari (center), and Mr. Manimaran perform respectively at Ganesh Festival Celebration on SNU campus in Seoul held on Sept. 6, 2014.
Mr. Dheerendra Tiwari works as a dance teacher at Indian Cultural Center of Indian Cultural Center, Embassy of India, Korea. Ganesh vandana dance was performed superbly by Ms. Vaishali Satti.Cultural program was concluded with soothing performances by renownedvocalist Mr.AshutoshAdhikari who is also a Bangladesh TV Artist. The most awaited dance performance for which entire audience were eagerly waiting was at the last segment of program which was none other than Ms. Jyotsna Nair.She soothed audience with her skillful dance moves.Dr. Abhijit Ghosh and MsPratimaJadhavanchored the entire program with great enthusiasm.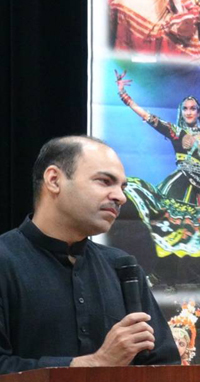 First Secretary Ved Pal Singh of the Indian Embassy in Seoul speaks as chief guest during Ganesh Festival Celebration on SNU campus in Seoul held on Sept. 6, 2014.
All the participants were honored with small token of appreciation for their performances by Mr. Parthasarathy of Indian Overseas Bank, Korea and Mrs. Subhadra Maudgal. The vote of thanks was given by Prof. Rohidas Arote of SNU who initiated Ganesh festival celebration in SNU eight years before.The final mahaarati was conducted by temple priestsfollowed by Ganesh visarjanand then prasadam was served at around 1 p.m.Several hundred of Indian devotees living in Korea as well as many Korean friends and expats living in Korea took blessings of Lord Ganesha and returned to their everyday activities. There were many dedicated hands of volunteers to make this event successful as it used to be since 2007.Amongst them were Prof. Rohidas Arote, Prof. Abhijit Ghosh, Mrs. Rashmi Gupta, Prof. Ganapathy, Mr. Pankaj Garg, Sumit Kumar, Kamala Mata ji, and Deepak Prabhuetc from Vedic cultural center — all were members of the organizing committee.
This article was written by Dr. Yogesh Kalegowda and Mr. Eshan Amalnerkar, research students at Hanyang University in Seoul.