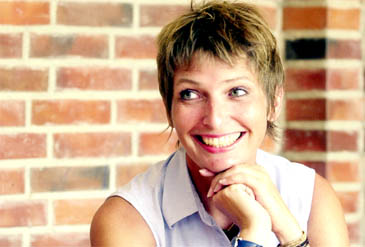 SIWA Presidennt Diana Seehafer
"American by birth, inquisitive adventurer by nature and married to Gerhard, a wonderful German. These past 25 years, life's continuing adventure brought me to Seoul from Hong Kong in April of 2002."This is Diana Seehafer's short autobiography. Sounds like another ordinary expat residing is Seoul, but on the contrary, she is far from average.What is it that propels her above others? Could it be that Seehafer is fluent in both English and German? Maybe its because she is an avid tennis player, a dedicated swimmer, and a spin class instructor. Or is it because she is also currently serving as the leader of the largest non-profit foreign community group in South Korea — the president of the Seoul International Women's Association (SIWA)?The list of activity is impressive, but it is non-of the above.Only a few minutes with Seehafer and it is clear what sets her apart from the average. It is her passionate spirit for life that distinctively makes Diana Seehafer an inspiration. But the most attractive part about her is not the way she lives her life; it is in the way she willingly and openly helps other people live out their life with greater passion and dignity — it is this passion to give that raises Seehafer above mediocrity.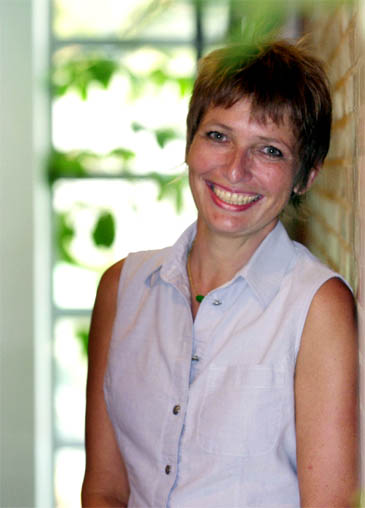 SIWA Presidennt Diana Seehafer
She was unsure of her interest in a "women's club" when she was first introduced to SIWA. "I didn't want to join a women's club and end up just talking to other women over coffee," explained Seehafer. She quickly realized the mendacity of her stereotypical assumption; SIWA is infinitely more than just coffee time.Founded in 1956, SIWA is a non-profit, volunteer organization comprising of approximately 500 members from over 50 countries, making it the largest international women's organization in South Korea.Since its inception, SIWA has dedicated itself in working hand-in-hand with local government, the international business and diplomatic communities, as well as with other women's groups and welfare organizations to aid those in need.Upon Seehafer's arrival in Seoul, she was accidentally introduced to SIWA. Initially searching for a tennis league, her search brought her to the tennis league at The Seoul Club. As fate would have it, all the members on the tennis league were also members of SIWA.By the end of the match, Seehafer's outgoing personality and winning smile got her quickly recruited as a bazaar ticket sales agent and eventually without Seehafer's knowledge as that year's annual Charity bazaar ticket sales chairman.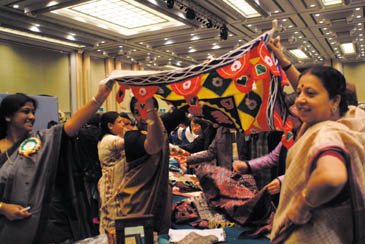 India shows off their goods at Charity Bazaar 2003.
Not unlike the accidental medical advancing discovery of penicillin from an old woman's moldy orange, Seehafer's unintentional discovery of SIWA was definitely a positive gain for South Korea.It didn't take Seehafer much time to settle into SIWA. She quickly began serving on several committees, including the welfare committee, then as board administrator and currently as president."Through good fortune I was introduced to and became a member of SIWA. I have come to deeply appreciate what volunteer organizations can contribute to their members and to society in general. The dedication, generosity, and enthusiasms of the women who make up SIWA are heartwarming and inspiring."Seehafer has always been actively involved in her community. She has always cared deeply for both political and environmental issues, and has been a long time member of the environmental organization Green Peace.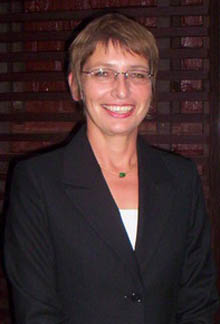 SIWA President, Diana Seehafer, poses at the Seoul Club bar during the interview with The Seoul Times.
As a woman born and raised in the North American tradition, Seehafer is extremely outspoken and opinionated, and is not one to sit on the sidelines when any circumstance is seen to decrease the quality of life for others. In the last two and a half years, Seehafer has seen many things in Seoul that she both loves and loathes. "It is a love-hate relationship," joked Seehafer.There are always many challenges in adapting to a new environment. For example, being unable to obtain specific food and hygiene products that foreigners might be used to is one of the main issues that stump many foreigners. But these are trivial things when compared to the other issues that still perplex Seehafer about Korea."Driving was definitely an obstacle when I first arrived." For a foreigner, watching Korean's maneuver their cars can be an adventure in itself. Korean drivers drive as if there are no rules. They come and go as they please."Korea's neighborhoods are probably among one of the safest neighborhoods for children to play in, but the cars make the streets a deadly place for them to play and enjoy themselves. The driving mentality has to be changed, especially for the children's safety."Another major issue that baffles Seehafer is Korea's third-rate welfare system. She does not understand how a first-world nation can be operating with a third-world rate welfare system.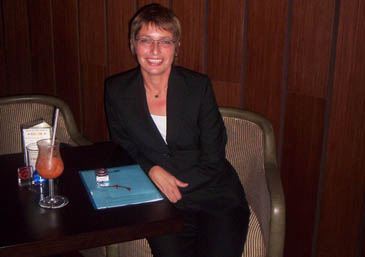 SIWA President, Diana Seehafer, poses at the Seoul Club bar during the interview with The Seoul Times Nov. 11, 2004.
Seehafer is not all opinion either; during the last two years, She has been spending her time in Korea trying to help foreigners adjust to life here. She has also been actively trying to get the Korean people to see some of Korea's shortcomings and began developing strategies to further enhance the lives of Korean people. This is evident through the work she has done through the Seoul Help Center for Foreigners and SIWA.SIWA along with the Seoul Help Center for Foreigners has helped numerous international companies seeking information on Korea and the expatriate communities relocate to the peninsula.In addition, every year, SIWA donates large amounts of money to small charities all over South Korea. These small charities are chosen through welfare visits where members of SIWA will go to a location of need and assess the situation.As part of the "Golden Age Program," Seehafer had the fortune to visit an elderly woman who desperately needed financial assistance. "We had left the old woman a basket of goods and she ran after us to thank us as we were leaving. The look on the woman's face is unforgettable, it was a look of gratitude for being treated like a human again."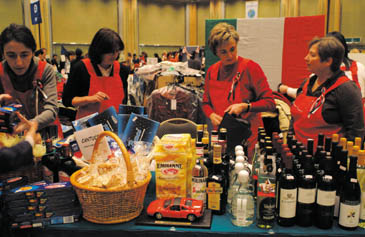 Goodies from Italy ... wine wine and more wine. Cheers everyone!
SIWA also supports small orphanages that take care of children that have been abandoned by their family. Some of these children were abandoned because some families are too poor to raise them while others have been abandoned because of a divorce.In North America, situations of abandoned children after a divorce are unheard of, but in Korea it is a repeated occurrence. "It is not culturally accepted to help raise the blood of another. Many divorce women are forced to leave their children behind if they wish to enter into another marriage."The money that is given to the supported charities is raised solely by SIWA. The members of SIWA come together to organize events such as the Silent Auctions that took place on Nov. 12, 2004 and the annual Charity Bazaar that will be taking place on Nov. 30, 2004 at the Grand Hilton to raise money for the numerous charities that need urgent financial support.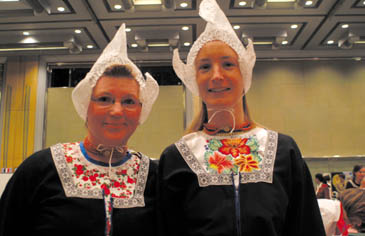 Two volunteers dresses in their native customes in the bazaar
The annual Charity Bazaar first began in the 1970s and from 1996-2003, the bazaar had raised over $1 million US dollars. Last year alone, a total of 214 million won was raised during the five-hour bazaar.This year, the bazaar will be featuring approximately 43 tables of products from various countries. Many countries are bringing in specialty foods that are unique to their own culture to sale. There are also going to be 21 charity tables — all of which were supported by SIWA in the past — selling products that the charities themselves have made. They alone will be keeping the money raised that day from their own tables.In addition, 10 vendors will be selling goodies from Persian rugs to antique pieces.The bazaar is a multicultural event and draws some of the top names in town. Last year both the wives of the Seoul mayor and foreign minister attended.Plans for this year's bazaar began in April of this year and many of SIWA's members including Seehafer are now pulling eight-hour working days to ensure another successful bazaar this year.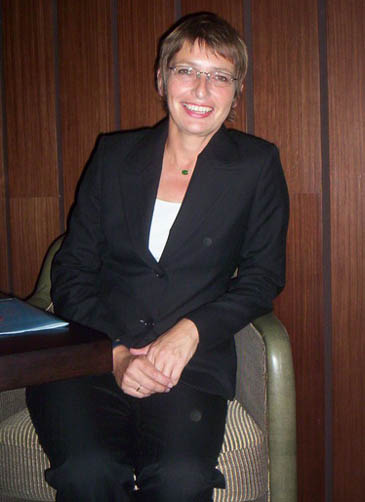 SIWA President, Diana Seehafer, poses at the Seoul Club bar.
The dedications of the women that run and organize non-profit organizations like SIWA are people of a different breed. It takes a unique kind of dedication and care to be able to stand for something that you believe in so much to willingly work eight-10 hour days for no pay. Some consider this crazy — Seehafer sees it differently; she is richer now than she has ever been.As a final question, Seehafer was asked what is the one advice she can give foreign women who have recently arrived in Seoul. Seehafer responded with a smile, "Get out and don't be afraid, it shouldn't be frightening. Go out and find other women and be active."Seehafer plans to move back to Germany with her husband Gerhard in March of next year where she hopes to be a personal trainer for the expat community there helping middle-aged women become more active and be informed of health issues such as osteoporosis.Germany's gain will be South Korea's loss.