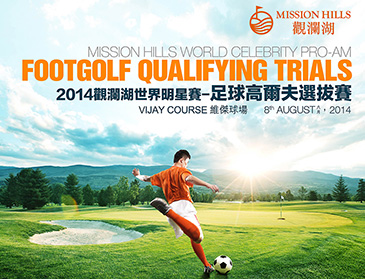 Poster of Foodgolf Qualifying Trials
It is a sport that is spreading across Europe and the Americas, superstar Wayne Rooney plays it in a popular TV ad and it even has its own World Cup. Now footgolf – combining football and golf in one fun-filled and novel pastime – is coming to China. Mission Hills will add another chapter to its pioneering history when it stages the country's first footgolf tournament on 8 August. The Mission Hills World Celebrity Pro-Am Footgolf Qualifying Trials, to be held on the Vijay Course at Mission Hills Shenzhen, will be a nine-hole challenge for teams of two, comprising one adult and one junior. And the prize for the winning team will be to play alongside global superstars from entertainment and sport when footgolf is incorporated into the Mission Hills World Celebrity Pro-Am this October.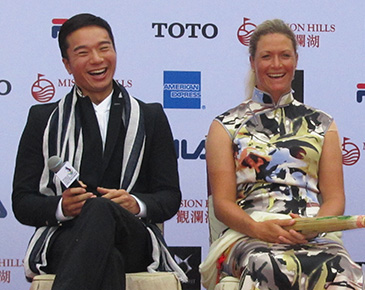 Vice Chairman Tenniel Chu (left) of Mission Hills Group posing with Norwegian golf star Suzann Pettersen at Mission Hills
"Mission Hills staged the first World Cup of Golf in 1995, hosted Tiger Woods' first visit to China in 2001 and was the first – and so far only – leisure resort to be named a 5A Level Tourist Attraction by China's National Tourism Administration," said Mission Hills Group Vice Chairman Mr. Tenniel Chu. "Therefore, it is appropriate that we should be leading the way in footgolf. This inaugural tournament, with a fabulous prize awaiting the winners, is just the start of a commitment to the sport that will see us launch a domestic league and stage international events." Footgolf has the same basic rules and concepts as golf, except players kick a football rather than use traditional clubs and golf balls. Entry to the tournament is open to all and free of charge. Entry forms and further details can be obtained by calling +86 755 2802 0888 ext 33842 or by email to TSOffice@missionhillschina.com. The Mission Hills World Celebrity Pro-Am will be held from 24-26 October at the fully-integrated Mission Hills Haikou Resort on the tropical island of Hainan. Oscar winners Morgan Freeman and Nicole Kidman are being lined up to appear, together with Hollywood heartthrob Chris Evans. Dazzling actress Jessica Alba is confirmed to take part, as is music maestro Kenny G. Sporting icons heading to the globally-televised event include two Olympic legends, Russian ice skater Evgeni Plushenko and Chinese gymnast Li Ning, and Portuguese former international footballer Luís Figo. China's basketball legend and former NBA star Yao Ming will also take part for the second time. Top golfers confirmed include 2013 US Open champion Justin Rose, the flamboyant Ian Poulter, multiple Major winners Gary Player, Greg Norman and John Daly, and Europe's 2014 Ryder Cup captain, Paul McGinley. The tournament will see 24 professional golfers and 24 celebrities paired into teams for a weekend of top class golfing action and gala gatherings, with the footgolf event a new addition to the schedule. The Mission Hills World Celebrity Pro-Am is sponsored by American Express, Porsche, Stella Artois, Kohler, Lindt, San Pellegrino and Appletiser.
About Mission Hills
Mission Hills Group, owner and operator of Mission Hills Shenzhen-Dongguan, which contains 12 golf courses (making it officially the world's biggest golf club), and Mission Hills Haikou, which features 10 courses, is a key player in China's fledgling sports and leisure industry. At both resorts, the company is expanding facilities to include world-famous hotel brands, major tourist attractions, retail developments, entertainment districts, office space and residential accommodation. The Mission Hills brand encompasses several sub-brands, including Mission Hills Golf Clubs, Mission Hills Residences and Mission Hills Hotels & Resorts. It is also the host, promoter and underwriter of several high-profile golf tournaments, including the World Ladies Championship and the World Celebrity Pro-Am. The company employs approximately 15,000 people across its two operations. For contact:
DaphneWang@missionhillschina.com