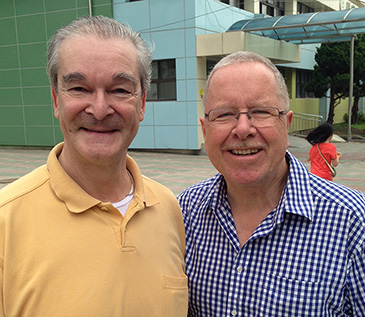 Prof. Hans Kneider is a permanent resident, honorary Seoul Citizen, and head of the Seongbuk Global Village Center. At right is President Alan Timblick of The Seoul Times.
There cannot be many countries in the world where non-citizens have the right to vote and huge kudos is due to The Republic of Korea where, in recognition of the burgeoning number of immigrants, foreign nationals with permanent resident visa status can vote in elections for local government, including the offices of Mayor, Provincial Governor, local council and district chiefs.South Korea's amazing economic growth over the past six decades has been matched by an equally impressive maturing of democratic institutions, including universal suffrage at the ballot box.On June 4, 2014, this writer chose to exercise not only his limbs but also those rights by strolling to his local polling station to watch and take part in the democratic process.This was my third time to vote so I was able to make comparisons. The process was as orderly as before, though there did seem to be more voters.Queuing for ballot papers took no time at all. This time, however, there were seven ballots to complete, so I was glad of the easy-to-understand pictorial instructions (in both English and Chinese) mailed to me in advance.One other difference was that on this occasion I did encounter another non-Korean, also there to vote. A professor of German literature at the Hankuk University of Foreign Studies (HUFS) and also a permanent resident, Mr.Hans Kneider was generous enough to afford me time for an interview.
Q: Herr Kneider, can you make any comparisons between voting in Korea and in your home country, Germany?
A:
Not really, since this is my first time to vote here, and it has been many years since I voted in Germany. But one difference is that back home foreigners may not vote, unless in EU elections and if they are citizens of an EU member state. By that token, Korea is far more open minded.
Q: How about the voting technology?
A:
In Germany, like England, we still use the pencil although electronic voting cannot be far away. The Korean system of using a special chop provided within the booth is very convenient and clear.
Q: You yourself are a dong head (village chief), as well as head of Seongbuk Global Village Center. Have you been able to initiate multicultural activities in the area?
A:
Yes, working closely with the gu district office, we have run a Latin American Fiesta several years running at the Samsun-gyo Plaza. Unfortunately we cancelled this year in respect to the victims of the Seweol tragedy. But the European Christmas Fest should be held in December, as usual, at the same location. Both events have been very popular with expats and locals alike.Thank you Prof. Kneider. We hope your work will continue to receive support and recognition.On leaving the polling station, I was not aware of any curious glances which, as a foreigner, I had attracted on previous occasions. Also one of the election officials confirmed that there had been other non-korean voters. Yet the total number of qualified foreign voters in the whole country only amounts to a few thousand, so they are not likely to influence the outcome. Maybe that is why I did not meet any exit poll tallyers.
As at the time of writing, there are no results as yet. But I fully expect first indications to emerge by early evening.Democracy, in terms of its processes, is efficient and very much alive in Seoul!