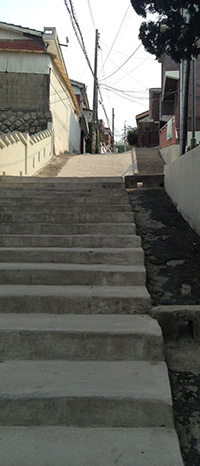 Even if they find their way, the path is hard for visitors to walk.
On behalf of our readers, especially residents of Seongbuk-dong, home to the official residences of some 40 ambassadors, we congratulate your office on having secured UNESCO Cultural Heritage recognition for the 40 Royal Tombs of the Joseon Kingdom We also wish your Administration a Happy 15th Birthday!In the hope of expanding knowledge and experience of the cultural and historic significance of the royal tombs, we wish to offer a suggestion on how the accessibility of the Jeongneung site, specifically, could be improved.Your office may not be aware that the majority of the foreign residents of Seongbuk-dong, and likely a large number of Koreans, are in fact oblivious to the existence of such a cultural treasure on their very doorstep. The reason is that to find the entrance to the park is very difficult. Your office has posted a notice on the fence with a phone number of the park office, but there is no English speaker to answer so directions are impossible to obtain.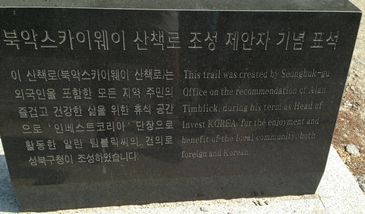 The Timblick Trail: Free public access to an area of outstanding natural beauty!
Some years ago, acting on a recommendation of the author of this letter, who is also a Goodwill ambassador for Seongbuk-Gu and an honorary Citizen of Seoul, the Gu office created a walking trail along the Bugak Skyway, which has become very popular due to the beautiful natural environment and the splendid views it affords. However, ironically it does run for a few hundred meters alongside the Jeongneung Forest, tantalizingly close and frustratingly so since one may see, but not enter, from the upper level.In fact the only access from Seongbuk-dong is via an unmarked route passing through a depressed housing area, quite unbecoming and even sad. Most would-be visitors are discouraged from venturing along this route due to its unattractive appearance and obscurity.
Tantalizing! Skyway path and Jeongneung Forest Trail run parallel separated by a thin fence.
As a result, the beauty, tranquility and spiritual calm of the Jeongneung Park, a jewel-like oasis preserved in the heart of this modern capital is neglected by the very residents who are in a position to promote tourism and to take home precious memories to their homelands.I recently attended a meeting of The Royal Asiatic Society Korea Branch, of which I am a Council member, and was astonished to discover that no-one present had ever heard of Jeongneung, let alone being aware of its location. And this a UNESCO Heritage Site!The solution we propose is simple: construct an additional pedestrian entrance from the Bugak Skyway at the point where currently there is a locked fire and emergency vehicle gate. There is ample room for a turnstile to be set up beside the gate. It could be operated by coin (or T-money) for fee collection and secured by CCTV. We are convinced that willing corporate sponsorship could be found to cover the cost, in the interests of promoting Korean culture and history.I wrote personally to one of your predecessors with this proposal and received a reply to the effect that it would offend the geomancy and mystique of the tomb site, but for as long as no action is taken, the grave remains literally a really hidden treasure.