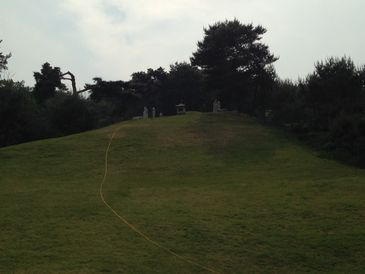 The tomb and surroundings are well-kept and deserve a visit.
In a rather unglamorous and crowded quarter of Seoul there is a royal tomb which is as well known by scholars for its loneliness as for its prestige. One might say that the occupant deserved better treatment in her resting place, for this is the final destination of the remains of a lady who was once the love of the life of a great man, the founder of the Chosun Dynasty, King Taejo.
Queen Hyeonbi— her title during her life alongside her royal husband—was Taejo's second wife. She bore him heirs, and because of her favored position she stood a good change of ensuring that one of her sons should inherit the crown, since the rule of primogeniture was not established. Had she succeeded, she might have looked forward to a comfortable old age as the dowager queen after her husband's death, since it was normal for women to outlive their men.
But it was not to be. She predeceased the king by two years and in his grief he gave her the title of Sindeok and set up a burial sitewhich he named Jeongneung, close to his palace, on a piece of land now occupied by the British Embassy, where he planned to be buried beside her. However his first wife, Sinui, now saw the chance to promote her own interests and those of her son, number five.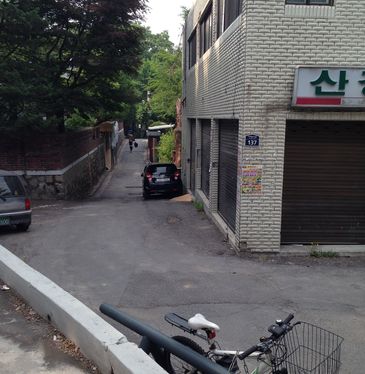 How would anyone guess a queen lies nearby?
Two years later Taejo also died and Sinui's son ascended the throne as the second king of the Dynasty, Taejong. Probably out of respect to his mother's wishes, he moved Sindeok's remains to an obscure area well outside the city and allowed the original Jeongneung site to be hemmed in by residential buildings and the grave's stone ornaments to be used in other construction in the city. Sendeok's status was lowered to that of Royal concubine.
For two and a half centuries, the tomb lay neglected and unnamed until in the reign of King Hyeonjong it was restored and recognized again with royal status, with the retained name of Jeongneung.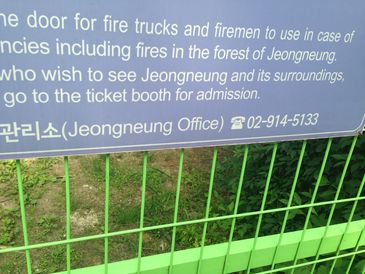 Follow the instructions but no-one can tell how to find the ticket office.
It is said that the day that the queen was reinterred with full dignity the whole area was soaked with heavy rain.The park surrounding the tomb, on the outside slope of Mount Bugak, is a lovely and restful wooded haven of peace and tranquility. But somehow the tribulations of its royal occupant continue and still leave it relatively inaccessible, visited only by the citizens of the local neighborhood of Seonbuk-gu Jeongneung-dong.The reason for this isolation is simple and can be easily remedied, if only the officials of the KCHA would listen.