Business
WTO Head Proud of Bali Agreement
WTO Dir. Gen. Roberto Azevedo Speaks at Forum
By Alan Timblick
President of The Seoul Times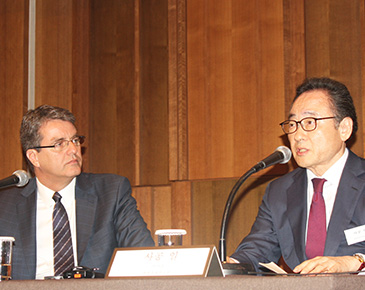 WTO Director General Roberto Azevedo (left) waits while IGE Chairman Sakong Il introduces him to the audience.
Director General Roberto Azevedo of the WTO gave his speech to the Forum in ebullient mood, having recently returned to his office from the successful outcome of the ministerial talks on Trade Facilitation in Bali, Indonesia.After more than nine years of negotiations, WTO members finally reached consensus on a Trade Facilitation Agreement at the Bali Ministerial Conference in December 2013, as part of a wider "Bali Package."The final agreement contains provisions for faster and more efficient customs procedures through effective cooperation between customs and other appropriate authorities on trade facilitation and customs compliance issues. It also contains provisions for technical assistance and capacity building in this area. A newly established Preparatory Committee was mandated to ensure the expeditious entry into force of the agreement and to prepare for its efficient operation.Bali was a strong platform for strengthening international trade, but was just a beginning, said Mr. Azevedo. The Doha Round remained to be concluded. Priority areas were Services, Agriculture and Industrial Goods Sectors. There had been no serious discussion on resolving differences for six years and it was urgent to get to work on them in Geneva.Regional and bilateral initiatives had received much attention but they should not be pursued at the expense of the WTO framework, he urged. In fact regional blocks can help build the edifice of the trade cooperation system. The problem was that the blocks could leave out many counties.Multilateral, regional and bilateral tracks should be followed simultaneously. Negotiations also should take into account the trend towards integrated production methods and cross-border manufacture, which call for special customs and tariff treatment.The WTO Head made a strong case for building on the momentum of the Bali breakthrough.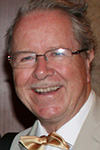 Alan Timblick serves as President of The Seoul Times. He grew up in England, graduated from Oxford University, and has lived in Seoul for over three decades. A former banker, he also worked for the Korean government as head of Invest Korea and for Seoul City as head of the Seoul Global Center.