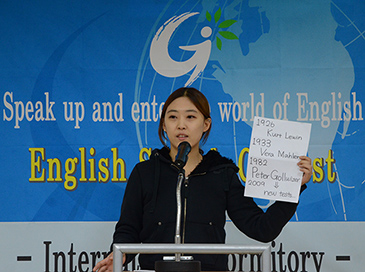 As an English teacher, it has been my privilege and pleasure to teach thousands of students in different learning environments throughout Korea. I can still remember my first class in the City of Cheongju nineteen years ago. At that time, most of my students were shy and unassuming. Despite their desire to improve their fluency in English, their timid nature made it difficult to actually use the language they were trying to learn. Still, with many confidence-boosting, ego-stroking pep-talks, and lots of encouragement, most students eventually mustered up the courage to start expressing their views in the Queen's English.Since then, I've had the opportunity to teach adults and children at different language academies, kindergarteners and preschoolers at private institutes, elementary and middle school students in public schools. I've also been invited to teach various age groups at exclusive language training institutions, summer and winter camps in different cities and provinces. Naturally, no two classes are alike, no two students are the same, and none of those experiences are ever mundane. Each learning environment has its own unique challenges and opportunities. Knowing this, I often make a point of regarding each language training encounter as a chance to inspire my students to envision themselves as aspiring multilingual professionals and pioneering leaders of Korea. This was my attitude on the eve of this winter when I was asked to participate in the PNU Global Leadership English Camp at Miryang Campus. After weeks of advertising, organizing and planning, the placement test was the last logistical hurdle leading up to the opening ceremonies. Then, two weeks later, the organizers, support staff, one hundred-ninety-five students, thirty-five native and Korean English teachers gathered on PNU Miryang Campus with much fanfare, to begin the program. During the following four weeks, the students were required to attend various preparatory classes, language training courses, and participate in other pertinent academic activities. Then, halfway through the program, the students were given the chance to go on two different field trips. One group went on a guided tour of Miryang and neighboring towns, with planned stops at the most alluring attractions. The other group visited the Hyundai Heavy Industry Factory Complex in Ulsan. Those who visited the Hyundai Heavy Industry Plant learned about the diverse fields of engineering, which includes shipbuilding, offshore engineering, engine & construction equipment, and green energy systems.Those are only some of the many fields in which Hyundai Heavy Industry is operating, and manufacturing innovative industrial systems, while helping to build a brighter future and a promising tomorrow. Conversely, the Miryang tour enabled the students to explore the nearby cultural sites, natural attractions, national heritages and treasures. Both excursions were organized as educational outings to broaden students' horizon, and provide new perspectives for their professional aspirations.Judging from the students' reactions and raving reviews about their field trips, the experience made them aware of new alternative professions to consider in their career choices, enabling them to get a new appreciation for their natural heritage and historical treasures. They spoke so gleefully about their eye-opening experiences, and the new information about the dynamic field of engineering. Such affirming comments and glowing recollections are enough to give the organizers a satisfying feeling for an explorative and informative field trip.Then, on day nineteenth, the students, teachers, and support staff gathered in the auditorium for the speech contest. It was an exciting, enlightening and intellectually stimulating affair. Each group was given four minutes to present the highlights of their speeches to the audience and panel of judges. The topics ranged from "A Special Job," "Contraception," and "Differences in thinking between Asians and Americans." Naturally, the competitive drive and unique perspective of each presenter turned the auditorium into an arena of enlivening oratorical discourse.In the end, three teams emerged as winners of an exuberant oral sparing. In addition to the top prizes, three other teams received special honors for the "Most Audience-friendly," "Entertaining," and "Most Thought-provoking" (Think "Contraception"!) speech. Having served as a judge for the Ban Gi-moon English Contest, the Global Leadership Speech Contest is certainly the most memorable oratorical event I've ever been involved in. Keeping in mind such gratifying sentiments, the award ceremony was a fitting conclusion to a fantastic winter English camp.
The writer currently teaches Global English at Pusan National University. He has also authored a forthcoming book "A Few Choice Words." He can be reached at cuforbes@gmail.com
(010)5875-6236. Email: cuforbes@gmail.com.