Inbee Park celebrates victory after sinking her final putt in the World Ladies Championship at Mission Hills Haikou in China. Photograph by Paul Lakatos/Mission Hills
World No.1 Inbee Park stormed to her first title of the year with a convincing five-shot victory in the World Ladies Championship at Mission Hills Haikou in China on March 9, 2014.The South Korean came out on top in a head-to-head challenge with world No.2 Suzann Pettersen, reversing the result from 12 months ago when the Norwegian won by a stroke. The great rivals started March 9's final round tied at 18-under-par – four clear of their nearest challenger – but Park led all the way after the opening hole and carded a six-under 67 to finish on 24-under for the tournament. Pettersen returned a 72 for second place on 19-under with world No.5 So Yeon Ryu (69) third at 16-under on a damp and drizzly day that made scoring more difficult after three days of sunshine. Park's only moment of concern came mid-round when Pettersen birdied No.9 and Park bogeyed the 10th, cutting her three-shot lead to one, but the Korean birdied the next two holes to restore control. Further birdies on the par-3 15th and par-5 last on Mission Hills' signature par-73 Blackstone Course brought her the final winning margin. "Today was obviously the toughest day out there because of the weather," said Park. "Everything seems to be working quite well for me, from ball striking to putting. Everything was great today so I'm just happy to be here and win my first tournament of 2014. "Last year I was leading going into the final round and I lost to Suzann. I knew that I left something out there last year so coming back this year I definitely wanted to win and that's what I just did. "I had good memories from last year and better memories from this year, so I'm happy to be here. It has been a fantastic tournament." Two-time Major winner Pettersen struggled to get going in the final round. She said: "Inbee played fantastic today under a little tougher conditions. There were a few extra elements of weather that we hadn't seen earlier but I feel like I played average, nothing better. I didn't go out and shoot six under like she did. "There's room for improvement but it's been a good week overall. My game has become a lot better over the week and I'll be happy to come back and play this course again." Korean star Ryu, the 2011 US Women's Open champion, began the day six shots off the pace. She returned a bogey-free round but was never seriously in the victory hunt as Park pulled away. The world's No.1 amateur, Minjee Lee of Australia, fresh from her first victory in a professional tournament two weeks ago, achieved her target of a top five finish. The 17-year-old Australian of Korean origin from Perth birdied three of the last four holes for a 69 and a share of fourth place on 15-under with Thailand's Ariya Jutanugarn (71).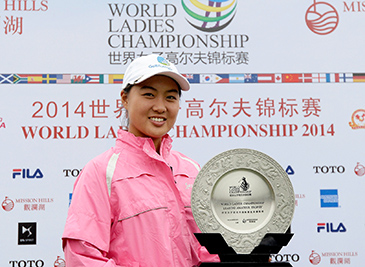 Minjee Lee of Australia poses with her trophy after winning the amateur category in the World Ladies Championship at Mission Hills Haikou in China. Photograph by Paul Lakatos/Mission Hills
That made her a convincing winner of the amateur competition, 14 shots ahead of China's Yan Jing. "The conditions were a bit more difficult out there today but, overall, I'm really happy with how I've played this week," said Lee. Korea's Chung Ye-Na, a KLPGA Tour regular, began the day as Park and Pettersen's nearest challenger, four shots behind, but struggled to a 78 to finish 10th. Park and Ryu were runaway winners of the concurrent team competition, their aggregate score of 40-under putting them a whopping 28 strokes ahead of the China A duo of Feng Shanshan and Lin Xi Yu. "It's always a great honour to represent your country but it also gave me some pressure because I didn't want to play badly in the team event. That gave me a lot of motivation," said Ryu. Park added: "Being in a team with So Yeon this year gave me a lot of confidence. Winning the individual and the team event is a huge honour, a double honour, so I'm very happy." The World Ladies Championship was co-sponsored by global services company American Express; Innovative Spirit from Paris, CAPSA New Generation Premium car brand – DS; premium Italian lifestyle brand FILA; and high-end, world-renowned bathroom brand TOTO.