Asia-Pacific
Bangkok Shutdown? Hardly!
By Alan Timblick
President of The Seoul Times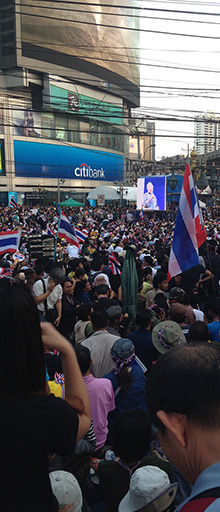 A big crowd of prostesters in Bangkok
With all the international media hubbub about demonstrations in Thailand, one might expect tourists to have stayed away from that winter vacation Mecca and its capital, Bangkok. And what foreign visitor would willingly insert himself into the throng assembled to close down a major city intersection?Well, having planned our family vacation long in advance to escape the bitter cold of Seoul, I was not eager to abort. I also knew that on returning to Korea I would be bombarded with questions about the situation in Bangkok. So when I agreed with my son to meet for a beer after work near his office I was ready to engage in some on-the-spot reporting forThe Seoul Times.The Asok crossroad is one of the busiest in the city of some 10 million Thais. Two major thoroughfares converge and the Skytrain (BTS)station also serves the underground BRT line. So if the intention of the protestors was to create gridlock and freeze movement, it is a pretty good choice.My rendezvous was at 6 p.m. on Jan. 13, 2014, which was the very day targeted by the opposition for a complete "shutdown" of the city. Was I foolhardy even to venture out of doors?My first observation was that the Skytrain was operating normally, with passengers seeming like the usual rush hour crowd. But getting off at Asok Station my ears were numbed with the noise, and getting out of the station to street level was clearly not going to be an easy job! But the good-natured crowd readily came to my rescue, almost bodily lifting me over the barricades and parting like the waters of the Red Sea before Moses to let me pass.Here I should ask the reader to suspend all assumptions which might have been formed in Korea about anti-government demonstrations. In the topsy-turvey world of Thai politics the current demonstrators are pro-establishment, anti-populism city dwellers while government supporters are rather the under-privileged, rural workers.Known for sporting, respectively yellow or red shirts, demonstrations by either side have provided a colorful spectacle for the international media. So I had expected to see a mass of yellow shirts. I was disappointed.However the distinguishing feature of this crowd was the pea whistle, hung on a ribbon decked in the national colors. And after each rallying cry by the organizer, Suthep Taugsuban, whose live image projected on a giant TV screen illuminated the area, supporters let loose a deafening shrill of thousands of whistles blown in unison.So my quest for a dramatic scoop of a story was thwarted. And a good thing too! Subsequent events, with violent and actually explosive incidents have shown that the underlying tensions could break out in much more serious confrontation. It may have been peaceful but it was also anarchic and the recent declaration of a State of Emergency was inevitable.But still there is no power to enforce a clampdown and the protests will continue until the participants get bored and decide to wait for the February 2nd elections, if indeed they are held.Meanwhile daily life goes on and the only point proved is that a government is not really essential.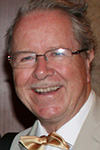 Alan Timblick serves as President of The Seoul Times. He grew up in England, graduated from Oxford University, and has lived in Seoul for over three decades. A former banker, he also worked for the Korean gpvernment as head of Invest Korea and for Seoul City as head of the Seoul Global Center.