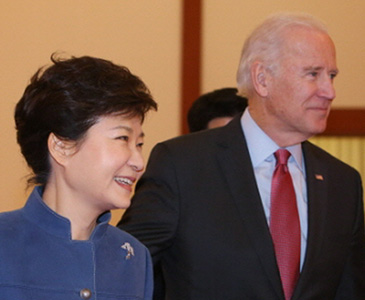 US Vice President Joe Biden (right) meets with S. Korean President Park Geun-Hye at presidential house of Cheongwadae on Dec. 6, 2013. Arrived a day earlier from Japan, the US veep delivered a speech at Seoul's Yonsei University. He left for China on Dec. 7 on the final leg of his visit to the three East Asian nations.

US Vice-President Joe Biden visited Yonsei University on the afternoon of Dec. 6, 2013 and presented wide-ranging remarks to students and invited guests who had packed in to the Gymnasium from late morning in eager anticipation of his two-hour talk.Mr. Biden began with a tribute to Nelson Mandela of South Africa, whose passing had just been announced, leading the audience in a moment of silence and recalling a meeting at which Mandela had told him that "a good head and a good heart were a powerful combination."Lauding the great man's capacity for forgiveness, he recalled him saying with a smile "I became best friends with my jailers."As for the evolution of US foreign policy, Mr.Biden said nothing about a pivot, but rather described a "re-balancing" ( a distinction which certainly figure-skating Queen Kim Yuna would appreciate)
This development would add to, not subtract from, the value of The international relations of the USA, which looked for joint leadership in the Pacific Century.America was a Resident Pacific Power, here to stay, as he had just told the Chinese Government.His first use of the "betting on" metaphor, a term whose translation has become controversial in th Korean media, was made in the context of the amazing progress of the ROK over the past 60 years. This had only been possible because, he told the students, "your parents and grandparents bet on their succeeding generations, confidently entrusting the future to them, investing in Freedom, and especially investing in education, which is the wellspring of new thinking. " the educational foundation of an innovative nation, he said, came from never criticizing but rewarding the challenging of orthodoxy by the young.Reaffirming that "America does what it says", he acknowledged differences between the North Asian powers but vowed that competition was not necessarily destined to lead to conflict. Security will make for growth for all, leading to peace.
Ending on a positive note, Mr. Biden encouraged Korea's decision to join the Trans Pacific Partnership (TPP) and noted that the Korea-USA Free Trade Agreement had led to a 65% growth in reciprocal trade.Alan Timblick OBE
President, The Seoul Times
http://www.TheSeoulTimes.com
Korea's only on-line English language Daily