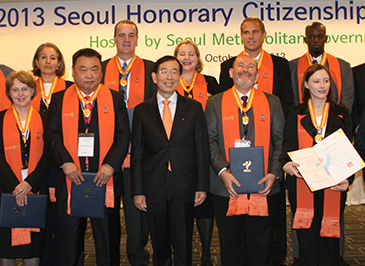 Seoul Mayor Park Won-Soon (center) poses with awardees of honorary citizenships during a ceremony held at Sejong Hall in Seoul on Oct. 28, 2013..
Seoul Mayor Park Won-Soon Awards Honorary Citizenship to 14 Foreigners in Ceremony Held at Sejong CenterWith an active and growing non-Korean population, the City of Seoul and its 11 million inhabitants experience intensifying interface with foreigners, thus becoming more "global" in mindset and institutions.Every year the city government recognizes the contribution made by leading international residents by awarding a selected group with the accolade of "honorary Seoul Citizen."Over the years, successive mayors have personally handed out these honors.On Oct. 28 (Monday), 2013, Mayor Park Won-Soon followed this tradition, with 14 awardees joining the ranks.The ceremony, held at the Sejong Center for Performing Arts' Sejong Hall, celebrated their contributions in various fields to the improvement of life in Seoul.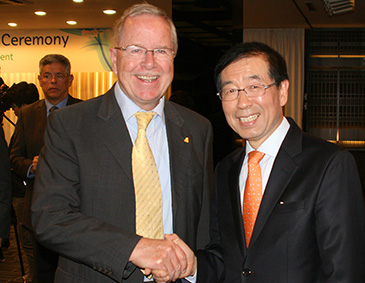 Seoul Mayor Park Won-Soon (right) greets President Alan Timblick of The Seoul Times during the honorary citizenship ceremony held at Sejong Hall in Seoul on Oct. 28, 2013. Timblick is an existing honorary citizen of Seoul.
This year they came from 13 countries across five different continents and ranged from diplomats to missionaries, businessmen to social and religious workers.Among them are Mr. Raju Chhrtri of Nepal, Mr. Osman Mohamed Adam of Sudan, Ms. Madalena Maragni Sull of the United States, Ms. Monika Schmidt of Germany, Mr. Bradley Kent Buchwalter of the United States, Mr. Richard Hill of the United Kingdom, and Ms. Amy Jean Jackson of the United States.Currently Hill works as CEO of Standard Chartered Bank Korea and Jackson serves as president of the American Chamber of Commerce in Korea (AMCHAM).A Japanese honoree, Pastor Nomura Motoyuki , took the opportunity to relate his 70 years of struggle against discrimination, recalling the suffering of Koreans in Japan in his childhood prompting his thought that "something must be wrong" — a thought which inspired him to put right the wrong throughout his life in South Korea.