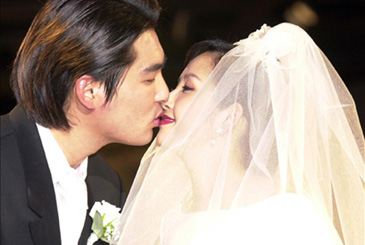 Late Cho Sung-Min kissing late Choi Jin-Shil in marriage
Dear Kids,It must be heartbreaking mourning the death of your mother, uncle, and father in your tender years. And the manner of their untimely passing must be especially difficult to understand. It's hard for me to even imagine the extent of your grief and the depth of your sorrow.
Although I don't know you personally, I've been a fan of your mother, and a grief-stricken admirer of her work. Now, after reading the sad news of your father's death, I have become a sympathizing stranger. Clearly, your days of mourning are too many, your sorrows are too somber, and the light of hope for your own future may seem too faint. Such a sad reality makes it necessary to offer a few words of comfort and encouragement at this time.
Sadly, we may never know the real cause of the hopeless feelings your mother must have felt before her last act. Also, we will probably never understand the sadness that swallowed your father, throwing him into the arms of death. However, what I do know is this; your own grief does not have to be life-ending. Life is sad sometimes, but even sorrow is temporary. After the mourning, there are joys to fill your hearts, laughter to lift your spirits, family members to love and embrace you, and a greater purpose for your young and promising lives.
So, don't ever think that nobody cares, or no one can do anything to help. That kind of thinking will only cause you to overlook the loving aunts and uncles, grandparents, cousins, and other relatives who love you wholeheartedly. Their heartaches will be twice as painful if you should ever follow your parents' footsteps. Your friends and neighbors would experience sorrow upon sorrows if either of you should share your parents' fate.
There are no hopeless situations; just feelings of hopelessness brought on by human cruelty and life's harsh realities. And the suggestion that suicide is an option is only demonic mutterings in the ears of the downcast. Actually, feelings of hopelessness are like dark clouds hovering in an overcast sky. The sunshine is only hidden momentarily. Once the dark clouds pass, things will brighten up again.
Maybe no one told your parents that suicide does not solve any problems. So this sorrowful stranger wants to make sure you know that such a fatal act causes so many hearts to hurt, so much pain for the people left behind; so much distress for the grieving relatives, and so much mourning for the entire nation. Remember, you are not expected to bear the burden of your parents' passing. That is the nation's role. We are all grieving with you.
Despite what your parents may have thought, life is truly worth living. And you'll discover that as you grow older. So give yourselves the chance to experience it personally. Don't yield to the temptation to give up on yourselves or your future. Deep within you lies the cleverness to do what your parents could not: endure the night of sadness, see light amidst the darkness, escape the grip of hopelessness, and break the destructive cycle of self-murder.
You are divinely endowed with the mental ability to resolve life's conflicts, change your circumstances, chose a better future and a different destiny for yourselves and loved-ones. But unless you stay alive, you will never know that today's grief is tomorrow's sobering lesson. Today's loss is tomorrow's teachable event. Today's heartache is tomorrow's insight. Today's sadness is tomorrow's fortitude.
So make a promise to yourselves. Tell yourselves only good things. Don't talk about you the way your enemy would. Be kind to yourselves. Be good to yourselves, be proud of yourselves, and learn to ignore those who want to damage your own self-esteem.
As the Good Book says, "you are fearfully and wonderfully made." You are the result of marvelous creative effort. You are precious in the eyes of God. You are like little treasures that increase in value as you grow older, stronger and wiser. Don't allow anyone to devalue your self-worth. Don't permit yourselves to feel hopeless, useless and worthless.
Instead, make yourselves feel good about your capabilities, skills, and talents. Say nice things about you. Be good to each other! Be cheerful, even if you are not perfect. Be forgiving, even when you make a few boo-boos. Be honest about the errors you've made; but most importantly, be generous and gracious to yourselves.
Learn from any bad decisions your parents have made. Strive to gain whatever lessons you can from their failings, and make earnest efforts to avoid their mishaps and missteps. If no one else will, then go ahead, give yourselves pats on your own backs occasionally, but don't tear yourselves down. Be hopeful! Be optimistic! Be positive! Be kind to yourselves! Be good to yourselves and each other!
Best regards, Carlton U Forbes
Visiting professor of Hannam University, Daejeon