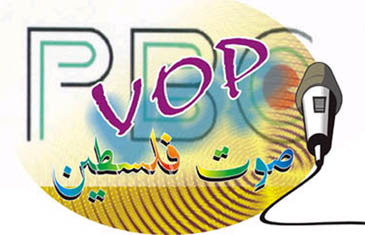 Voice of Palestine
Gaza City, Oct. 28, 2004 — "Shhhhh ... Please be quiet. I need to listen to the radio," Ashraf Soradi told the customers that packed his mini market in the Nusseirat refugee camp, as he moved the small radio set closer to his ears, ignoring them completely and focusing on the brief news bulletin that describes the atmosphere and latest developments in the Israeli incursion of Khan Younis.The image of Mr. Soradi glued to his radio set is not unique among today's Gazans. The sudden rise in local radio stations that reached seven so far in the past three years reflected the Palestinian people's need for constant update and detailed information about the situation in different parts of Gaza Strip; situations rarely presented in international news wires or directly affect their lives.Following the establishment of the Palestinian Authority in 1994, and until the outbreak of the Palestinian uprising (Intifada), Gaza Strip had only one PA-owned and operated radio station; Voice of Palestine — The Second Program (The First Program is broadcasted from Ramallah City in the West Bank).However, the inability of the official PA radio to fulfill Gazans' needs for detailed information following the Intifada made way for the rise of seven more stations; two PA-owned and five private — to a certain extent. One of the first private radio stations to be established in Gaza was Sawt Al Hurriya (Voice of Freedom). Broadcasting on the FM wave, the colorful and detailed information this radio station provided attracted Gazans across the Strip. Soon, Sawt Al Hurriya was rated the most listened-to radio station in Gaza.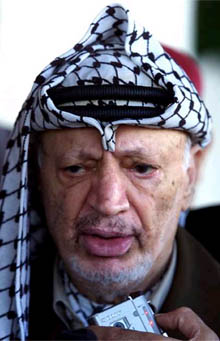 Yasser Arafat
However, private radio stations did not only serve Palestinian audiences — it served Palestinian factions, as several rivaling radio stations were later established with the funding and editorial policy of certain factions, such as Sawt Al Shabab (Voice of Youth), which is funded and run by Palestinian leader Yasser Arafat's Fateh movement, and Sawt Al Aqsa (Voice of Al Aqsa), which is affiliated with Hamas movement.
Vital Source
During the past few years, Gazans grew more dependent on these local stations, which broadcast information vital for their day-to-day life, as Shadi Eisawi, 28, a taxi driver, describes. "In the morning I always turn on the radio before I head out for my daily round to know which roads are closed and which are not. I also listen to the morning news bulletin to see where are the Israelis invading today in order to avoid these areas."However, not only taxi drivers need to know when roads are open or closed. University students, employees, travelers, international organizations ... etc. "Everybody is dependent on these stations in their lives, because they tell you when the military checkpoints are open and when the Israelis close them, as well as when Rafah border terminal closes and when it opens," said Moaweya Zahran, 55, a clerk.Indeed, local radio stations in Gaza have started competing with other news wires and satellite channels in reaching to the scene of events faster and giving a more comprehensive coverage.Majdi Al Arabeed, owner and director of the Voice of Freedom, explains that the high rating his local radio station earned stems from its objectivity. "All international news wires are governed by their editorial policies, and almost all of them are under US or Israeli influence, so they don't report everything here. However, we cover the news as they occur and without holding back from our audience."
Tight Budget
Despite their success, local radios in Gaza often start and remain on a shoestring, with little income generated from commercials and program sponsorships in the shadow of the deteriorated economic situations. Al Arabeed points out that despite their hard work and his wish to give them a raise, the staff of his radio station work with low salaries, "lower than what they deserve. Some even get 700 shekels (approx. $155) per month, which is barely enough."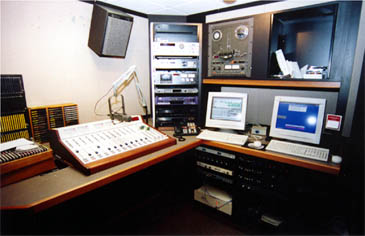 A radio station studio
From his side, Yehya Al Madhoun, Sawt Al Shabab's field correspondent, who recently earned a good reputation among Gazans for his extensive coverage of the Israeli incursion into northern Gaza, says that his salary is little more than 1,000 shekels (approx. $220) per month, which barely covers his transportation and cellular phone bills."I'm Al Shabab's correspondent in Gaza City and northern Gaza, and as part of my work I use my cellular phone a lot to call my sources and to present my coverage to the radio when I go live. This costs me a lot of money, and the radio station pays only part of it. It is a frustrating situation, and I don't know if I can go on like this," he
says.
Matter of Life and Death
But in spite of the setbacks and financial difficulties, nobody in Gaza Strip can deny the vital role of local radio stations. Bashir Kafarneh is probably on top of the list, saying he owe it to these stations that his mother is among the living today.Kafarneh, 32, lives in the northern town of Beit Hanoon, which was besieged by Israeli forces many times before, the last of which was during the onslaught on northern Gaza that began on September 28.His mother suffers from a chronic heart disease, and needs her daily medicine or she might undergo fatal consequences, as he phrases it."During the last Israeli invasion, I was unable to leave my house because Israeli tanks were shooting at anyone. Many people lost their lives while attempting to leave their homes. The only way I could think of to bring the medicine to my mother is to call the emergency line of one of the radio stations. I explained my mother's condition and her need for her medicine on the air and they promised to help. In about two hours, a team from the Red Cross arrived at our house and gave us a week's supply of her medicine." "I think my mother would not have been alive today if it wasn't for that radio station," Bashir maintains.At Gaza City's main square, several taxi drivers gathered around one of the cars' radio sets, listening to a recent update on the condition of roads in Gaza Strip. Suddenly they all flinched to their cars and started their engines."The radio said they opened Abu Holi (Israeli checkpoint separating the north of Gaza from its south)," explains Abu Hadi, one of the drivers. "If they said the Israelis opened it, then they're definitely right. I need to return to my family in Rafah, which I haven't seen since the road closed three days ago."