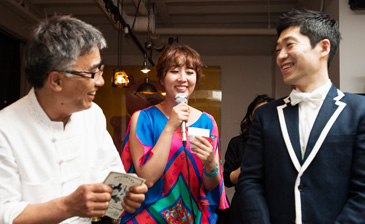 Mr. Hugh Ahn (right), organizer of "Fine Dining Gala Week of 2012" talks with noted natural food stylist Yim Gi-Ho (left) at opening reception of "Fine Dining Gala Week 2012" held at Itaewon restaurant in Seoul on May 1, 2012. At the center is local food stylist Hong Shin-Ae.
Started in 2010, "Fine Dining Korea" has held a "Fine Dining Gala Week" every year to offer a chance to get the taste of delicious meals, which would've been at a heavy price, at discounted rates. This year the dining festival will involve the participation of the finest restaurants and the wine importing companies. "Fine Dining Gala Week" presents Korea's seven finest restaurants that will serve prix-fixe meals with the special wines selected by the renowned wine importing companies. This food festival will be held from May 18 to May 24, 2012.The organizers strive for exemplary customer satisfaction with the motto of the event, "the most delicious week of the year". Each day, a different restaurant will serve its best meal with the most fitting wines for a great price.
From the host Hugh Ahn
"Continuing from the successful and meaningful event last year, Korea's seven finest restaurants will serve their most special meals not only with the terrific wines but also with the most luxurious beverage such as a Single Malt Whisky which hasn't been released for sale yet. Fine Dining Gala Week will continue to grow in size and improve in its quality, that one day, it will even receive high marks and great acclaim like the New York City Restaurant Week.
Special Restaurant Week Deals
Korea's top seven restaurants will serve course meals for 120,000 won (premium wine, beverage, tax and gratuity included). The price, which is the fraction of the usual price, was decided to offer the chance to get taste the best meals and to experience the best service to as many people as possible.
The line-up of Restaurant and Wine importing company for the Fine Dining Gala Week 2012
Korean Restaurant by Chef Lim Ji-ho's
and Dongwon Wine Plus on May 18, European Restaurant by Chef Roland Hini's and Naru Global on May 19, Boutique Japanese Restaurant by Itsuhi Hutoshi's and Tiwi Trade on May 20th, Japanese style French restaurant by Kobayashi Tatsuo's and Tiwi Trade on May 21st, Italian Restaurant by chef Kim Hyeong Rae's and Winell on May 22nd, French Restaurant by Chef Gregoire Michot's and Winell on May 23rd, and Korean restaurant by Chef Kwon Woo Joong's and Cave de Vin on May 24th.For more information call Ms. Park Beol-Hee at 782-6585 at leave at beol.eeh@gmail.com