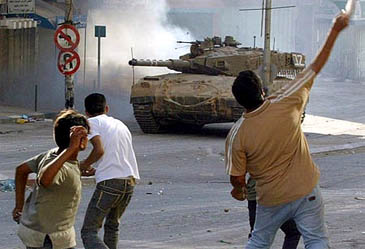 Palestinians hurling rocks to Israeli tank
Gaza City, Oct. 21, 2004 — Of all the reasons he could think about, Ali Bahri did not realize that the location of his house, which was the source of envy for his neighbors, would be the prime reason for its demolition by the Israeli army.Ali, a physiotherapist working for the Gaza Community Mental Health Program (GCMHP), the only organization in Gaza Strip dealing with mental health disorders, was treating one of the many patients who attend the clinic when I came in. Behind a dark curtain and whispering, Ali was calming the patient down with his gentle touch and kind words.In 10 minutes the patient left with thanks and gratitude filling his mouth. Ali smiled warmly and sat nearby drying his hands. The patient did not probably know that the kind man who has just finished treating him was wearing the only change of clothes he has.A graduate of Belgrade University in 1985, Ali Bahri became the first physiotherapist in Gaza Strip. Working 16 years in this field, six of them with the GCMHP, Ali's knowledge and long experience helped hundreds of patients around Gaza Strip deal with their disorders."I worked for 10 years with Al Ahli Hospital in Gaza, then in 1998 I moved to the GCMHP. I deal with cases suffering organic disorders resulting from torture in Israeli prisons or from psychological trauma due to losing a beloved one or losing a home, which has increased since the Intifada broke out," Ali said.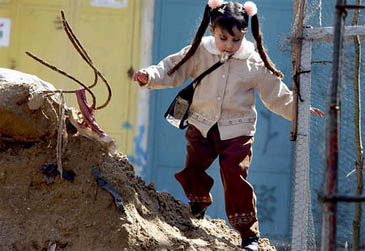 A little girl in Jabaliya refugee camp
When he began recalling the night his house was destroyed, Ali started opening a briefcase next to him, whipping out several papers and documents with photographs of him and his family members. "These are the only documents I was allowed to take from the house," he said.At about six o'clock on Oct. 8, 2004 as Israeli forces were invading the small quiet town of Beit Lahya, north of Gaza, Ali, his wife and three children were sipping tea while watching a famous Arabic soap opera. Sustained gunfire crackled in the air."On that night when the gunfire started, I rushed my wife and children downstairs. About ten Israeli soldiers broke into the house and started searching it, while others handcuffed me and lead my wife and children outside. A high-ranking Israeli officer told me my house is marked for demolition," Ali narrated, as he presented photos of his three-storey house before and after demolition."I protested the decision, and said no attacks have occurred from here and no fire came from the area at Israeli forces and we're far out from the Qassam rocket firing range. The officer then took me outside and forced me to stand in front of the tank's gun turret, then told me 'Bahri, I know no attacks came from here but the orders to demolish your house came from higher ranks'."Bahri continued telling his story, saying he was given only five minutes to remove his personal documents from the house, then an armored bulldozer ripped through the house like a knife in butter. "I watched 16 years of hard work being reduced to a pile of worthless rubble in less than an hour," he said, lowering his face down in sorrow.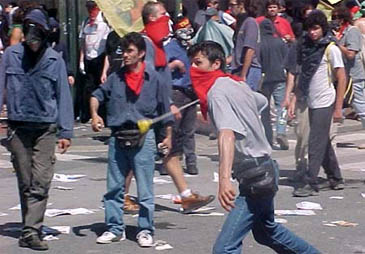 Intifada or Palestinian uprising
For two nights, the Bahri family remained at their neighbors, because the entire town was under siege and Israeli forces shot at anyone who dared to move outside his house. On the morning of the third day, Bahri returned to the site of his house only to find that the rubble was scattered all the way to the main street. Mr. Bahri argued that the Israeli forces wanted to clear the location of his house to build a military watchtower, as it overlooked Jabaliya refugee camp, which was a hotbed for fighting between Palestinian militants and Israeli forces. Ali's house included the only physiotherapy clinic in northern Gaza Strip, where many patients used to come for treatment. Ali spent a small fortune setting up this private clinic as an extra source of income. He said the clinic helped him build two more houses for his brothers next to his home. His brothers' houses were also demolished on the same night his house was.Ali's thoughts were interrupted when one of his sons entered the room and threw himself in his arms. "Don't be amazed that my son is here. He is being treated from trauma in the psychotherapy clinic next door." Mr. Bahri explained that he is now treating the trauma of his own children, and that the shock of losing everything they own has made them suffer organic disorders. He added that GCMHP has kindly accepted to treat his children at the program's clinic. "Since our home was demolished, my children have nightmares every night. They wake up shouting in the middle of the night, afraid that Israeli soldiers come and knock down the rented apartment we now live in," Ali made clear, as he started playing with his son.Following the Israeli withdrawal from northern Gaza on Oct. 16, 2004Ali Bahri returned to the location of his home. Hardly recognizing the place due to the enormous destruction, Ali said that it would be virtually impossible to rebuild his home and clinic again, as he lacks the financial capability. His rented flat is paid for by the Palestinian Ministry of Housing, as part of its emergency program to help the homeless families."My brothers and I used to own 40 dunums (10 acres) of citrus groves in the nearby town of Beit Hanun. Its income secured enough money to build my house, but how can we rebuild our homes now after the Israeli army razed our land last year?!"