Facade of the residence
Do you have any idea where is the best residential area in Seoul?Nestled on the slope of the beautiful and majestic Mt. Bukhan Pyeongchang-dong, the special residential area is called South Korea's Beverly Hills amongst South Koreans and the foreign residents in Seoul.The Korean version of America's Beverly Hills is resided by highly successful people including politicians, businesspeople, artists, and other noted personalities. Among them are foreigners including diplomats and business executives. Burglars and thieves avoid the area because of high security.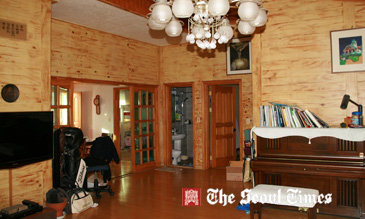 Living room with fire place on its side
Residents in this area benefits from relatively much cleaner air when most of the people in Seoul suffer from side effects coming from ever worsening air pollution.Ambience in this area offers ideal and optimum living conditions for its residents. Parking is almost no problem in this spacious area. Clean and cool air from the mountain keeps the area minus 2-3 degrees cooler than downtown Seoul area. Residents say that they do not even need air conditioners in the middle of hot summer.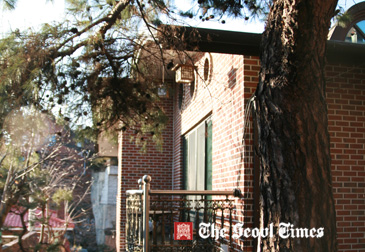 Porch surrounded by pine trees
A host of art galleries and museum including Gana Arr and Lee Jong-Young Gallery and upscale cafes and specialty restaurants add special flavor to the affluent area. The area is a popular venue for shooting movies.Pyeongchang-dong area is an ideal place for city commuters as it takes only 15 minutes to the Seoul City Hall by car ride.Have you been dreaming about living in this neighborhood? Then here is a way of achieving your dream.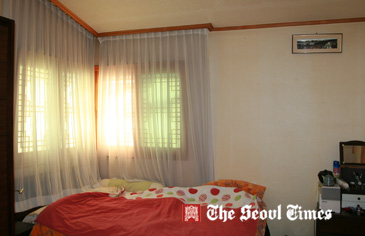 Main bedroom
A beautiful and comfortable two-story house with six bed rooms and four bath rooms is up for grab with a reasonable price.A spacious garage in the basement can have three cars at the same time. Extra cars can be parked in front of or behind the house.The roomy and lofty garage can be turned into a descent office, depending upon the needs of the new house owner.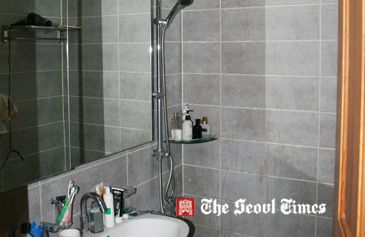 A bathroom
The total building space is 112pyeongs or 340square meters(including basement)
The house was built in 1995 by a noted lawyer named Kim Jong-Sung, who put too much effort on the house. He covered the roof with copper slabs to better keep house temperature.A very cute male moderate-size golden retriever "Cinco" can be handed over to the new owner of the house.Price is 1.2 billion won. Nonnegotiable!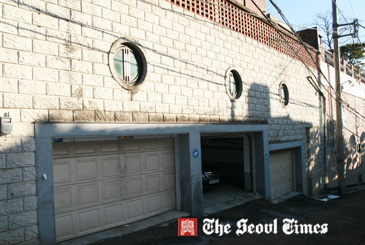 Garage
One can visit the house in Pyeongchang-dong, and its address is:
Pyeongchang-dong 466-24, Jongro-gu, Seoul, KoreaFor details or inquiries: 010-8993-7846.