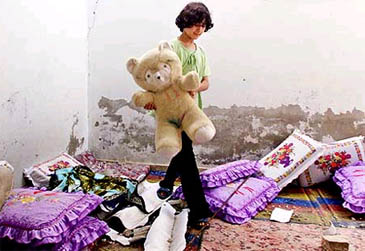 A Palestinian girl in Jabaliya
Gaza City, Oct. 14, 2004 — Another day passes in the packed refugee camp of Jabaliya in the northern Gaza Strip, with the Palestinian militant group Hamas releasing a new video of a roadside bomb exploding under an Israeli tank. The video shows the huge tank passing over a mound of sand when an explosion is triggered and dust fills the scene.Militant factions assert that Israeli forces have incurred huge losses in soldiers and armour, but have been covering it up, during the ongoing onslaught in the northern Gaza Strip dubbed "Days of Penitence" by Israeli military officials.Testimonies and eyewitness accounts from residents of the refugee camp, being aired around the clock on local radio stations, either confirm seeing an Israeli tank ripped apart by a roadside bomb or helicopters landing nearby to evacuate Israeli casualties.A recent statement by the Izzeddin Al Qassam Brigades, the military wing of Hamas, says one of their cells managed to destroy an entire column of Israeli tanks on October 10 in one of the battles taking place at the entrance of Jabaliya. A senior Hamas figure verified the attack and the results.The brigades' statement details that the cell first detonated a roadside bomb near an Armoured Personnel Carrier and another one near a tank, while firing two homemade rocket-propelled grenades at a second tank, destroying its cannon turret and damaging the hull.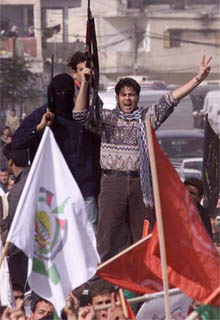 Intifada movement
Both militants who carried out this attack were killed after an Israeli drone pinpointed their location and bombed it with a missile. Hamas video footage revealed the location of the destroyed armour mentioned in the statement, buried deep under the sand dunes west of the refugee camp. Dr. Nizar Rayyan, a political leader of Hamas, told The Seoul Times that Palestinian resistance has been defending Jabaliya valiantly since the first day of the invasion, using the meager weapons they have in addition to makeshift explosives. He added that Israeli forces lost 20-40 soldiers during the attack near Beit Lahya alone.This was surprisingly assured when Israeli army radio reported this attack once during their midnight news bulletin, mentioning that at least 20 Israeli soldiers were killed in the northern Gaza Strip and that all communication with them was severed.Later on, the army radio dropped this news item from subsequent bulletins.Many local radio stations in Gaza receive an enormous number of faxes from different Palestinian factions, claiming responsibility for some attack against Israeli forces in northern Gaza Strip.Majdi Al Arabeed, director of Sawt Al Hurriya (Voice of Freedom) local radio station in Gaza City, estimates that from the faxes the station has received so far, about 15 tanks, 10 armoured bulldozers and a number of jeeps and other vehicles were destroyed in separate attacks. They collectively resulted in the deaths of 20 soldiers.Israeli media reported a fierce debate between Israeli Prime Minister Ariel Sharon and his Chief of Staff Moshe Ya'alon about what is happening in Jabaliya. Israel's Channel 2 quoted Ya'alon as asking Sharon: "Do you want me to get my soldiers killed in the alleyways of Jabaliya?"Jabaliya is not a place to rush in a huge organised army, Israeli strategic analyst Yoram Schweitzer told The Seoul Times by phone."Jabaliya refugee camp is a crowded population center where 100,000 Palestinians live in dire poverty and have an increasing Islamic zeal. Most of the population supports Hamas or other Islamic resistance groups, making them prefer death than turning themselves in to the Israeli army," Schweitzer explains.He made clear that the misreporting of casualties on the Israeli side demoralizes the soldiers and discredits the Israeli media and military institution.
Spearhead of the Intifada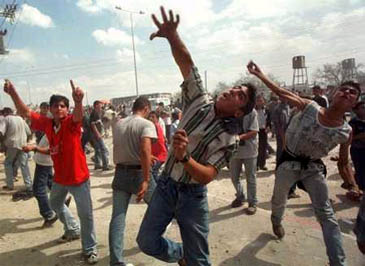 Palestinians hurling rocks to Israelies
Jabaliya was the place where the first intifada broke out in 1987, and has remained a stronghold for most Palestinian militant groups, but mainly Hamas, throughout the years. During the Al Aqsa intifada that erupted on September 28, 2000, Jabaliya was one of the first areas to rise up against Israeli forces, and has been the cradle of settlement attackers and 'Qassam' rocket launchers in the Gaza Strip.In an effort to bring the Palestinian civilian population to fight the militants, Israeli helicopters have dropped Arabic-language flyers over northern Gaza, telling residents that "terrorism pushes you further into a life of misery and poverty." The leaflets also have a drawing of a monster with "terrorism" written on it.This common tactic, said Palestinian political analyst and newspaper columnist Hani Habib, has been used by the Israeli army many times to crack local residents' support for militants, which is impossible."Those militants are also sons of the refugee camp itself. They're someone's cousin, uncle, brother and even father, so how can they turn their backs on their own blood," explains Habib. Indeed, the network of narrow pathways in Jabaliya were recently covered with awnings to protect militants from Israeli combat helicopters and unmanned drones hovering over the camp around the clock. Almost 70 of the 110 Palestinians killed there were targeted by these war planes.Jabaliya resident Abu Moath believes the stiff resistance in the camp has stopped the advance of Israeli forces, adding that fighters from different Palestinian factions are spread throughout the camp's alleys, planting explosive charges and fixing sand bags as bunkers for them to hide around, not to mention firing homemade mortars and rockets at Israeli tanks and bulldozers attempting to enter the camp.