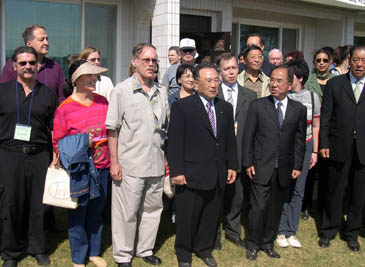 Mayor of Seosan Jo Kyu-Sun (second from right), President Kim Yong-Sung (third from right) of Seosan Ginseng Cooperative Association pose with ohter local and foreign dignitaries.
In the picturesque landscape of Seosan surrounded by mountains and farms, the Ginseng Festival kicked off on a perfect hot and sunny autumn day.The event was hosted by the Seosan City hall and the ginseng business association, which bussed in 142 ambassadors, diplomats, their families, business people, and other dignitaries from Seoul.The festival started off with a traditional performance of Korean music played by local high school students to greet ambassadors, counsellors and other diplomatic staff members. Once the buses from Seoul arrived at the festival the musical troops started to play their instruments such as drums, symbols and other percussion instruments while decked out in traditional Korean outfits.Once inside the sprawling landscape the Mayor of Seosan Jo Kyu-Sun, President Kim Yong-Sung of Seosan Ginseng Cooperative Association, and National Assemblyman Moon Seok-Ho representing Seosan area of South Chungcheong Province, greeted everyone.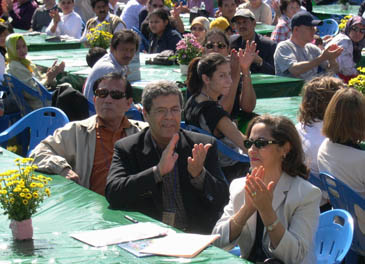 Tunisian Amb. Othman Jerandi (second from right), and his wife Mrs. Jerandi (riht) are clapping hands while Mr. Min Byung-Il (in sunglasses), editorial director of The Seoul Times looks on.
Dr. Nam Seong-Hee gave a speech about the positives effects of ginseng on one's health. Some examples of the positive effects of ginseng that he listed were that ginseng strengthens high blood-sugar which helps to fight diabetes, has effects on improving sexual functions, and works against fighting cancer in the beginning stages.The highlight of the festival was the picking of six-year old ginseng. With a little help from the organizers and some of the local farmers everyone who attended the opening day ceremony picked up a pitchfork and harvested ginseng much like they did 100s of years ago.Some of the ambassadors and VIP guests at the festival were Israeli Amb. Uzi Manor, Amb. Istvan Torzsa from Hungary, Amb. Pavel Hrmo of Slovak., Tunisian Amb. Othman Jerandi. Other important guests at the festival were Charge d'Affairs of Embassy of the Netherlands Hendrik E. C. Koets, Minister Osawa Tsutomu of Japanese Embassy in charge of Information and Culture, .Greek Commercial Counsellor Stefanos Voudouris, Romanian Councellor of Press and Culture Angheluta Gelu, and Mongolian Commercial and Economic Counsellor Dr. B. Khuldorj.Also attending the event were Prof.Ray Wowk of Daejin University and Dr. Muhammad Munawar, Homeopathic Doctor, Pakistan.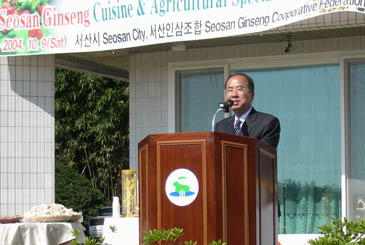 Mayor of Seosan Jo Kyu-Sun delivers a welcoming remark.
The festival lasted all afternoon with a traditional Korean lunch served for all guests. There was an exhibition of local foods, beverages, and special products made from ginseng in which everyone tasted and enjoyed.