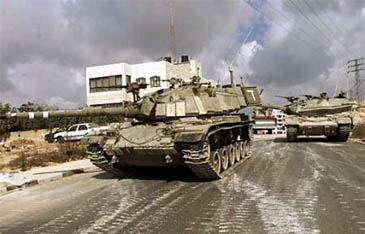 Israeli tanks on Gaza Strip
Gaza City, Oct. 7, 2004 — Nader Duweidar never expected that sending his only daughter Islam to the nearby grocery shop would be a fatal decision. I had organized an interview with Duweidar several days ago when I heard that his two-storey house in Tal Al Zaatar, a hilltop neighborhood overlooking Jabaliya refugee camp, had been reduced to rubble by an armored Israeli bulldozer to clear a spot for the Israeli tanks invading this northern Gaza Strip camp. Upon reaching him at a modest apartment deep inside the teeming camp, however, his personal tragedy had suddenly escalated beyond his worst nightmares. "I thought losing the house I spent years saving money to build was the worst that could happen to me," Duweidar sighed as he pointed towards a large dark spot in the middle of the street. "That's where my daughter was murdered. She was shot dead by an Israeli sniper from somewhere near my demolished house." During the six-day Israeli onslaught on the northern Gaza Strip, particularly in the sprawling Jabaliya Refugee Camp where more than 100,000 Palestinian refugees live in shabby cement and tin houses, more than 80 people have been killed by Israeli gunfire, tank shelling or helicopter missile attacks.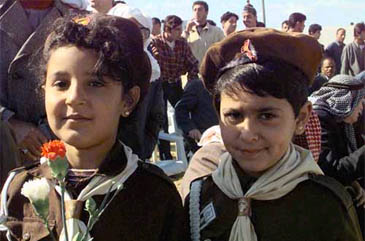 Jabaliya Refugee Camp in northern Gaza Strip
On October 4, Islam became the 19th child on this list. On that Sunday, Duweidar remembered, the shooting and shelling had been a bit lighter than usual. Islam was returning home from school as usual, running between the rubble of homes, trying to avoid any stray bullets Israeli snipers might fire. "When she arrived home, I was listening to one of the local radio stations. They were saying the invasion might last for a long time, so I thought about stockpiling some food in case a closure is imposed by the occupation forces," said Duweidar. "I told Islam to change her school uniform and go get some bread from the grocery shop across the street, but she ran straight out the door without changing." Minutes after, and without warning, machine-gun fire crackled through the alley from the direction of the Israeli tanks. Duweidar heard people shouting that a girl had been wounded. "I raced to the window hoping and praying it wouldn't be Islam. When I looked from the window, I saw her on the ground, just yards from the door. There was blood around her head. I couldn't take it, I just collapsed," Duweidar remembered.
Israeli forces have dubbed their military campaign in northern Gaza "Days of Penitence"; it is a plan devised by Israeli Prime Minister Ariel Sharon to save face, says Talal Okal, a political analyst and Al Ayyam columnist in Gaza. Israeli military sources claim the invasion of northern Gaza aims to eliminate the Palestinian resistance operating there, mainly Hamas and its military wing, the Izzeddin Al Qassam Brigades. The Brigades fire homemade Qassam rockets from certain areas in the north at nearby Israeli settlements and towns. "If Sharon decides to pull out from Gaza now, without stopping the rocket attacks as he vowed, he will weather harsh attacks from members of his Likud Party as well as the settlers, who have already threatened to kill him if he goes ahead with his disengagement plan," Okal told the Arab Media Watch. The columnist said the enormous death toll so far reveals the true intentions of the Israeli onslaught. "Death, destruction and mayhem, in an effort to make Palestinians fight resistance activists who fire Qassam rockets. So far he [Sharon] has failed," Okal argued. "Eighty-five percent of those killed in Jabaliya are civilians. Is this what Sharon means by eliminating the resistance? These daily massacres make people pray for the resistance to fire these rockets," Okal added. The death of Islam is a case in point. At the small and crowded Kamal Adwan Hospital in Jabaliya, hospital director Dr. Mahmoud Al Asali told AMW that Islam Duweidar would have died shortly after being shot. "She was shot once in the head, causing a fatal injury. This certainly indicates an intention to kill," he noted.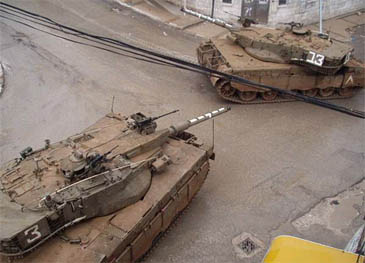 Mazen Abu Salem, 25, who owns the grocery shop across the street and was the last person to see Islam alive, swore that she was not shot during the outburst of gunfire. "I'm 100 percent sure it was just one bullet. It was a silent one that was fired before the hail of bullets from the tanks began." "I saw Islam crossing the street to her house when she suddenly fell to the ground. At first I thought she slipped and fell, but when I got out of the grocery shop, tanks started firing and I had to run back to take cover," he said. When the shooting stopped, Mazen went out to check on Islam. "She was between life and death when we picked her up and tried to get her to a hospital. I will never forget that moment. She looked at us and asked us about the bread she had bought for her father."