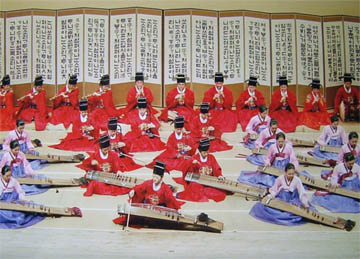 Full orchestra members of Gugak, Korea's National Music or traditional Korean music Photo caption Kim Sun-Young
Music lovers of all ages will be treated to a special festival that opens up this Friday and runs throughout the month of October at various venues across the country. The Gugak Festival will be held from Oct. 1 to 31 under the slogan of Jonghoengmujin ("wandering freely in all directions, without boundaries") and the mottos of "youth" and "participation." In order to make gugak more appealing especially to the young generation, Gugak Festival organizers will combine traditional Korean music with various kinds of other genres such as rock, hip-hop and classical music. The Korean Culture and Arts Foundation presents this festival as the first of its kind; a large-scale event that hasn't been seen since 1994. Organizers hope that the festival will bring gugak closer to lovers of Korean music from all ages and all nationalities.
Seoul Art Center in Seocho-dong in southern part of Seoul
The festival is divided into three parts: "Journey into gugak for ten days;" "Participation program for learning minyo (Korean folk songs);" and "Contest of creative gugak." Journey into gugak features ten concerts with various themes from gugak for meditation to gugak performances with rock musicians which will be held in eight cultural places in Seoul including the Seoul Arts Center, a Hongdae club called Hodgepodge, and Marronnier Park in Daehangno from Oct. 1 to 10. The "Ten Days of Kugak" will be a series of concerts under 10 different themes and is scheduled to take place in different venues in Seoul. The first concert, entitled "Maestro Meets Youth," will be held tonight at 7:30 p.m. (October 1) at the Grand Theater of Seoul National University's Cultural Center. Masters of traditional Korean music such as Hwang and An Sook-sun will perform on the same stage along with hip-hop band One Sun. Tomorrow night (Oct. 2) at 7:30 p.m. at the outdoor stage of Pyonghwa (Peace) Square at the Sangam World Cup Stadium, local pop bands and singers, including NRG, Lee Sun-hee, and Cho PD will perform live under the theme of "All Songs Are United Under Arirang."
| | |
| --- | --- |
| | |
| Ms. An Sook-Sun, famed singer of traditional pansori musical | Lee Sun-Hee, well-known South Korean vocalist |
For the second weekend in October organizers have planned a 12-hour concert titled "Ya-Ya-Ya Concert: Staying Up With Gukak." Organizers are calling it the most experimental event yet for the young club-running generation. The concert will be a relay of unique performances by traditional music artists and underground bands such as MC Sniper, NR-J, Nalnari Band, and Winetap in My Ear. The concert starts Friday October 8 at 6 a.m. and will end Saturday Oct. 9. It will be held at the club Hodgepodge near Hongik University in Seoul.If making music is more appealing, the festival will offer special programs, including "Hands-on Sori Madang" for those who want to learn and enjoy "minyo" or traditional Korean folk songs. To encourage the young generation to create gugak music, lectures will be offered every Saturday and Sunday during October in 10 different regions including Seoul, Incheon, Taejon, Chonju, Gwangju, Taegu, Busan and Jeju Island. The festival will also hold a contest of creative gugak where the first prizewinner receives 10 million won. Those who advance past the first and second preliminary stages will move ahead to the finals to be held at Sungkyunkwan University's 600th Anniversary Memorial Hall on Nov. 3. Of 42 million won in total prize money, 10 million won will go to the first prizewinner.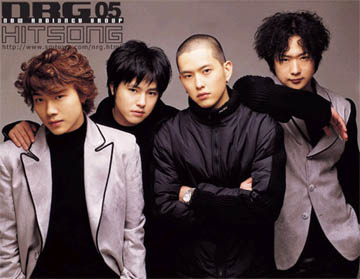 NRG, four-member dance/music group
Organizers plan to hold the gugak festival every year with different themes to introduce the traditional music to more people. All the concerts of the festival will be available free of charge, but reservations should be made. For more information about shows, venues and times contact (02) 760-4690 or
www.gugakfestival.or.kr