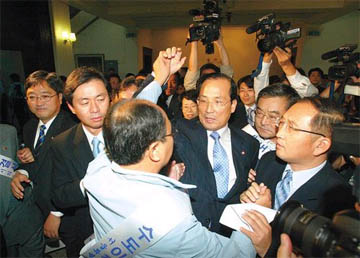 A group of about 10 ruling Uri Party lawmakers were in a physical fight with Seoul City Councillors who tried to stop them from entering the Seoul City Administration building on Sept. 22, 2004. The lawmakers were trying to visit Seoul Mayor Lee Myung-Bak in their protest against Lee's spending taxpayers' money for anti-capital move rally. Mayor Lee left his office in order not to meet with the lawmakers. Mayor Lee is strongly opposed to the government's idea of moving capital city from Seoul to a site in South Chungcheong Province.
Photo caption by Kim Sun-Young. Courtesy Chosun.com

By not holding a public forum over the capital move the government is dividing the nation's "soul" which is bringing out different opinions from Seoulites as well as residents in Gonju. Lee Jin-Ho owns a store near the capital and prefers to keep his store nameless, he said that his biggest business is done between the hours of nine to five where employees from the different branches of the government come to buy their daily needs from his convenience store. He believes that the move will kill his business. Not only that it would kill every business within the area of the National Assembly. "If I lose my business I don't know what I'll do. I've owned this business for a few years now. If I sell it I'd have to go back to driving a taxi. I bought this store with the money I saved from my job as a taxi driver." Like many Seoulites he believes President Roh Moo-Hyun's plan to move the capital to the central part of the country is wrong.Roh believes the move is the best way to resolve overpopulation issues in the metropolitan area surrounding Seoul and bring about balanced regional development. The government estimates the move would cost $40 billion US but opponents of the move see it costing over $87 billion. Not only it would cost too much, but also it wouldn't alleviate overcrowding in the Seoul area or even promote balanced regional development.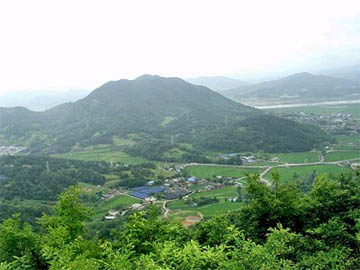 New capital site in Gongju City and Yeongi County in South Chungcheong Province. Photo by Kim Sun-Young.
But opponents of the move believe this will only undermine the capital's competitiveness in an era of ever-expanding global competition. "This strategy of trying to balance regional development might sound good, but in this borderless world, we are still left with the debate over whether to redistribute the domestic population," said urban planning professor Kim Hung-Gyu at Yonsei University in Seoul. Currently, the Constitutional Court is deliberating a petition filed by a group of civic activists, Seoul City councilors and university professors against the project saying the plan lacks national consensus and thus infringes on the people's basic rights. The court has yet to make a decision.In Gongju where property value has been increasing ever since the announcement people are protesting against the move. A few weeks ago, the government informed those who own property on the planned site that their land would be purchased below the going rate.Property owners took to the streets and demonstrated. "I didn't vote for Rho so he can take my home away from me," said one demonstrator. The Director of Administrative Capital Relocation Support Team, Kim Jaejeong said that property owners would be receiving fair market price for their land before the speculation and that no one can buy any land in the area where the government plans on building the new capital.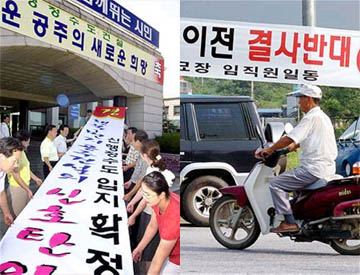 Pros and Cons:
City officials and citizens of Gongju City welcome the new capital city decision with placards (left) while residents of Yeongi County object the recent designation of their as South Korea's new capital with their placard (right).
Photo caption by Kim Sun-Young. Courtesy Joins.com
Another demonstrator said that his farm has been in his family for five generations and that losing his farm would be like losing a piece of his family's history. "Seoul has been the capital for thousands of years. Why change that?" On the other side of the debate supporters argue the relocation is the only way to resolve the overpopulation of Seoul and its surrounding area (where about 47 percent of Koreans live) and encourage growth in the rest of the country. "People always go where there are opportunities. All resources and capital have been concentrated in the metropolis while the population continues to decline elsewhere, because there are few opportunities for employment, education and culture," said Prof. Yoon Jun-Sang of Gongju University in South Chungcheong Province."People in other regions are craving for opportunities. Their frustration with the concentration of resources in Seoul is serious. We now really need to think of them," he added. But sociology Prof. Yee Jae-Yeol of Seoul National University sees it differently. He believes there will be "no mass exodus" out of Seoul.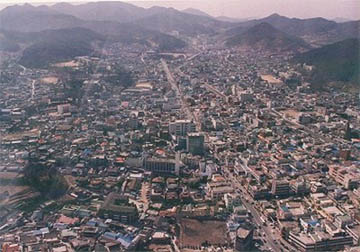 New capital site in Gongju City and Yeongi County in South Chungcheong Province. Photo by Kim Sun-Young.
"Koreans love to live in Seoul. It has the best schools and the best stores. One can find anything they want in Seoul," Yee said. "It is true that (the city of) Dajeon is only 15 minutes away but it can't compete with the variety that Seoul has to offer." "Since it's only an hour to get to Gongju by KTX (high speed train) government workers will most likely have two homes. One for weekdays and their main home for weekends where their families will continue to live. All the best schools are in Seoul. I can't see anyone wanting to hamper their children's future by moving them to an area that hasn't proven they have good education," he added. Another major problem could be how the new capital will be paid for. Finance Minister Lee Hun-Jae said that out of the projected government estimate of $52 billion US, $12 billion will be covered by taxes and the rest would be paid for by private companies. Political Science professor and President of the Institute of State Governance at Yonsei University, Yang Seung-Ham said that because of this some people might not trust the government. "Traditionally private companies have helped out the government and the country during hard times," he said. "There might be some who will not trust the government or companies because of this; eventually the government will give back the money."
Seoul City Mayor Lee Myung-Bak was recently criticized for his drastic move to change bus lines and his forceful action to remove Elevated Chonggyecheon Highway in central Seoul. Critics argue that all of his new projects are aimed at improving his image as a presidential candidate for next election.
Courtesy kcnn

"It can be an undesirable deal," he added.He also went on to say that not many local Seoul institutions like Seoul National University would move because of the strong opposition from the university's graduates. Yang believes the reason for the move is two-fold: one is to alleviate the concentration in Seoul and the other is political. "By moving the capital to the North and South Chungcheong and North and South Cholla Provinces the Uri Party will have their strong support in the next elections, Yang said. "They normally vote for a liberal party and the last election Rho got the most support from that area." Concerning the national security question with North Korea, there is a popular concise that Rho is moving the capital to make it easier for the United States to invade North Korea but that isn't the case. North Korea has missiles that can reach Japan and even Guam. In a recent poll, a little over the majority of Koreans believe that government should not move the capital, but, most people polled believe that something should be done to promote balance regional development and alleviate the traffic conditions of the Seoul Metropolitan area.