South Korean Maestro Gum Nanse
South Korea's master conductor Gum Nanse has recently been appointed as the honorary consul of the Slovak Republic as Gum's fame as a musician is nearing its apex both home and abroad.Celebrating Gum's appointment as its honorary consul, the Slovak Embassy in Seoul will host a dinner reception at Four Seasons Hotel in downtown Seoul on Nov. 21 (Wednesday), 2017. In a brief ceremony held on July 24, 2017 at the Slovak Embassy in Seoul's Yongsangu area, the master conductor was officially named as its honorary consul by Slovak Ambassador Milan Kajciak.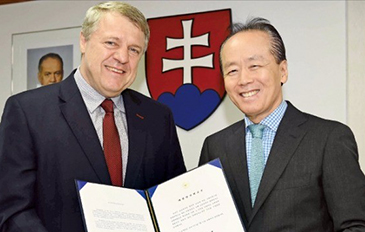 South Korea's master conductor Gum Nanse (right) poses for a camera with Slovak Ambassador Milan Kajciak after he was presented with the appointment certificate by the ambassador at the Slovak Embassy in Seoul on Nov. 21, 2017. The maastero was officially named as Slovak consul general at the brief ceremony.
Maestro Gum Nanse is serving as the artistic director of the Hankyung Philharmonic Orchestra (HKPO) established in August 2015 by a South Korean newspaper company the Korea Economic Daily.Gum also leads the Seongnam Philharmonic Orchestra as its general and artistic director.The master musician founded New World Philharmonic Orchestra and serves as its artistic director. He is also the principal of Seoul Arts High School.
Gum Nanse, who was born on Sept. 25, 1947, has been a symbol of South Korea's orchestra music as one of the best-known conductors in the nation.
Gum became the first Korean to win the covetous prize at the prestigious Herbert von Karajan Conductors' Competition in Berlin. Gum graduated from the elite Seoul National University.